Some of us like to give. And to those, sometime there is this challenging question – what would be a perfect gift for so and so person? Have you ever faced such a question?
Sometime, the person may be someone special & other times it is not special but very important – marriage anniversary of your boss :). Jokes aside, a gift is an expression of love & kindness. It's an expression that says – I care & you matter. How do you express this without losing the sense of "care" in a price tag?
Is there something like a best gift? Truth be told, only the person getting the gift gets to decide that. But, you can experience the joy of giving, the joy of making someone feel special. It helps if your giving is also mindful. You may ask – how? Well, there are some simple rules that you can follow. Eventually when (and if) you see that your gift has made a difference to the life of the one you love, that joy is precious.
Gifting Occasions
Like everything else in our world, reality is painted by our perceptions. It's no different for the Gifts. Remember the joy of getting a gift when you were young? As you grow older, the joy fades a bit in the background. It has not really disappeared but is no longer triggered by material gifts.
May be technology can help – a few words of wisdom, some strokes of colors & we hope these can bring some joy to your loved ones. You can gift os.me Memberships or Virtual Retreats to someone you feel would value & learn from it. To help you in this journey of giving, there are discounts & occasions offered to our members. Discounts are auto-applied but occasion needs to be selected during gift order. For now, there are these occasions offered.
No Special Occasion
Well, this is on top for a reason. It truly shows you care (without a reminder of an occasion). A sample is shown below of the email received by Adrian when his friend Danielle Houser sent a gift his way. The name & personalized message in the email template is replaced by what you mention while placing the gift order.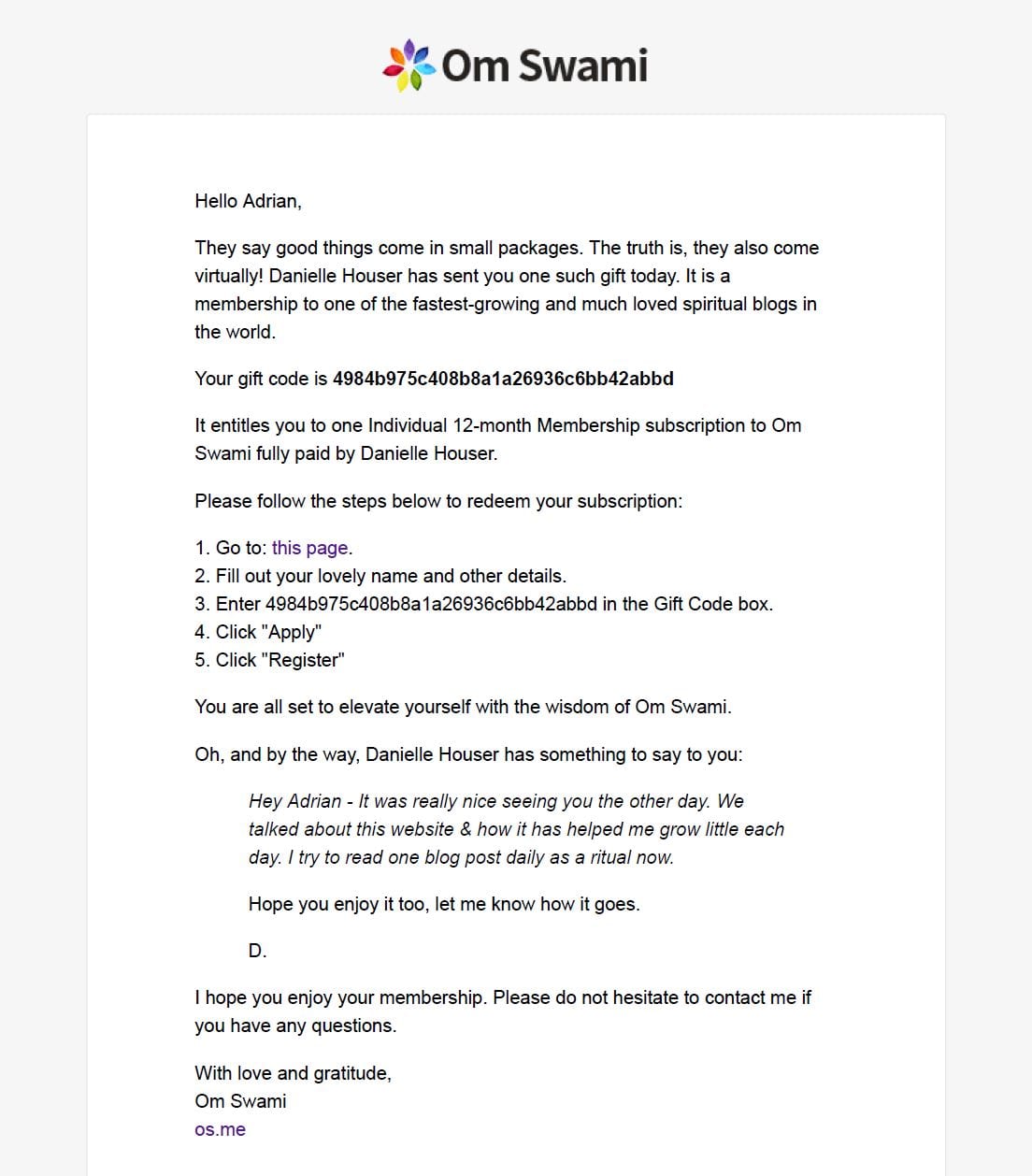 Raksha Bandhan Occasion
To celebrate the bond between a brother & sister – the occasion explains itself. A sample is shown below of the email received by Rekha when her brother Neeraj Sharma sent a gift her way. The name & personalized message in the email template is replaced by what you mention while placing the gift order.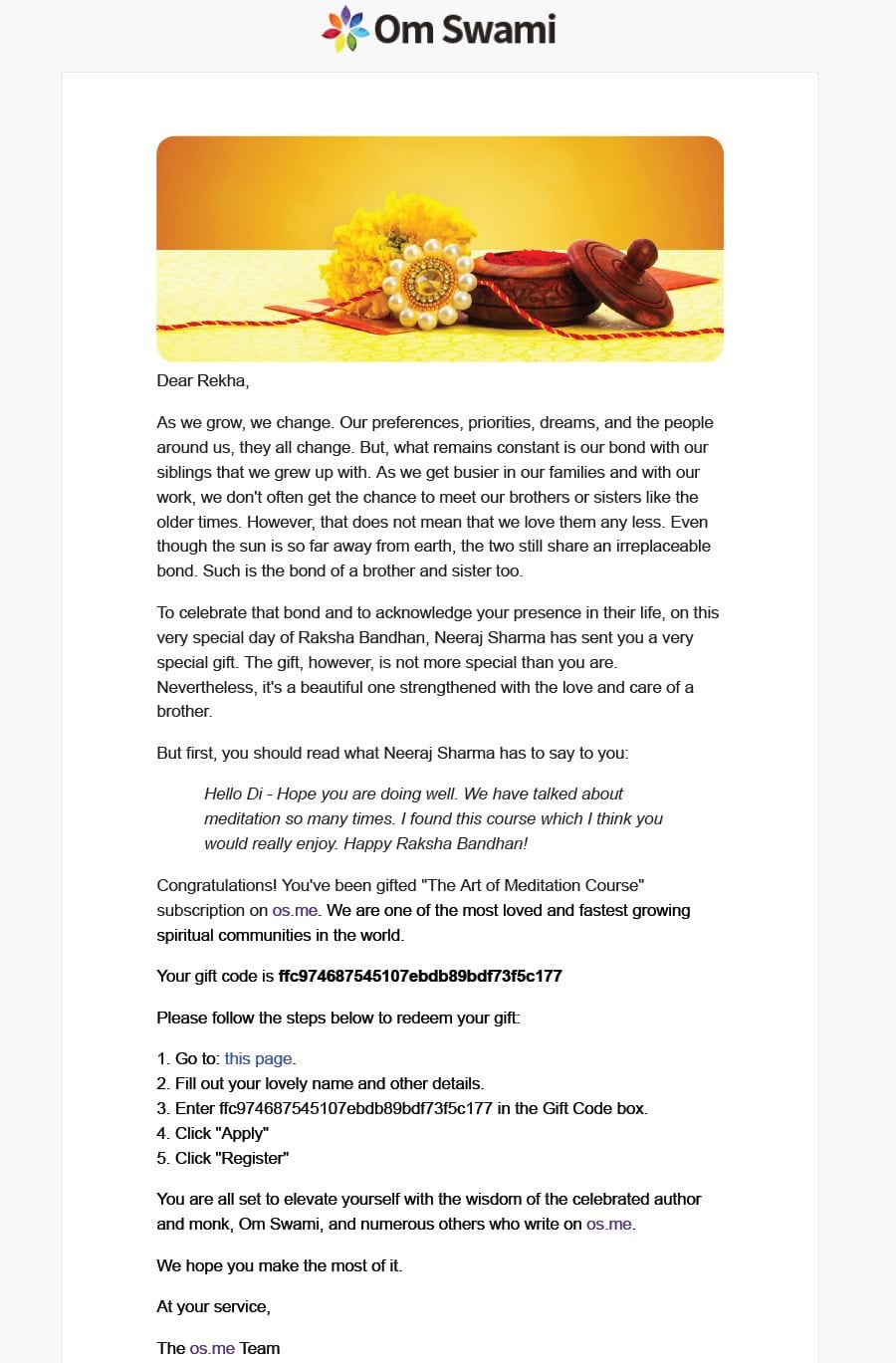 To end it – a Gift of Smile
Mulla Nasruddin was walking down the main road with a sack of potatoes over his shoulder. When he passed the tobacco shop, the shopkeeper asked him where he was going.
"To the palace," said Mulla. "My wife told me to bring a gift for the new king." "Are you nuts?" replied the shopkeeper. "They will throw you out, bringing such cheap goods for a king! You have to bring something good, like strawberries."
"Yes, yes," Mulla said. "That makes sense." He left the potatoes at the tobacco shop, and went off to buy strawberries.
When he got to the palace, however, the king was not impressed. He ordered his men to throw the strawberries at Mulla Nasruddin as punishment for bring such a meager gift.
As the fruit pelted him on his face and chest, Mulla Nasruddin smiled and shouted, "Praise be to God! Praise be to God!" The king was so confused he told his men to stop. "We are hitting you with your own horrible gift," he said. "What are you praising God for?"
Mulla nodded and said, "I am thanking Him that I didn't bring you potatoes."
Found a missing potato.. oops.. Occasion!!!
At os.me, what is worth celebrating is the community of our members who smile, laugh, encourage each other & try their every bit to make this world a better place. So what occasions should be added – is left to the community. Let us know through your valuable comments on what occasions you feel should be added. There is a caring team listening to every comment of yours.
---