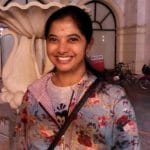 Manjula P Badiger
@Munch
An Ayurvedic Physician by profession and a novice in the path of spirituality:) . Am a beginner in the world of writing. Thanks to all the wonderful souls who read and encourage every writer here.
Bengaluru, India
Joined Nov 2019
Manjula P is following
---
I don't think of myself as a writer. Still, I write to spread awareness about various topics. Even if one post of mine helps you in some way, I consider my purpose done. Om Sri Matre Namaha. 🙏🏼

Who am I? Just yet unknown to myself. 💧👣😇 Rumi says - 'You are not a drop in the ocean. You are the entire ocean in a drop.' 🌊💧

Forever a student in the school of life! Few favourite words:Love,faith, compassion, gratitude! Believe in and also try to follow, Live and let Live😊

Bridge player and software developer.

Mere Guru Ji ke Charnon mein shat shat pranaam🙇🏻‍♂️🙇🏻‍♂️🙇🏻‍♂️

A journey from Somebody to Nobody. "They alone live who live for others" Swami Vivekananda.

A divine being leading a human life. However, I do not know my level of divinity (wink wink)

Swami's little minion in da house. I scribble by His grace. All His, except my bad jokes, maybe! Hope you enjoyed reading and remember to smile:)

𝑺𝒊𝒎𝒑𝒍𝒆 𝑺𝒐𝒖𝒍 𝒊𝒏 𝑴𝒖𝒅𝒅𝒍𝒆𝒅 𝒘𝒐𝒓𝒍𝒅🌎 𝑰 𝒃𝒆𝒍𝒐𝒏𝒈 𝒕𝒐 𝒚𝒐𝒖 𝑺𝒉𝒓𝒊 𝑯𝒂𝒓𝒊

His Love. Serving Gurudev through words. He alone is the Writer, the Written and the Reader. Happy Reading! Love and Light💕✨

I am an entrepreneur by chance and not by choice. I am an amateur astrologer and writer, and an avid traveller and now a seeker of moksha with the blessings of swamiji. My purpose is to leave the world better than I found it and be remembered by the people whose lives I touched as a force for good in their lives.

An on and off poet, an ardent devotee and disciple of one of the greatest Masters of our times, Om Swami.

An avid reader , on my journey to self discovery

A writer (hopefully) and a finance worker. That's unlikely mixed, eh? I learn the lesson of life from you.

I love writing humourous articles, and anecdotes.

May be my articles tell you more about myself than my bio.

Asha Kanta Sharma is a spiritually awakened tiny human energy in this vast Cosmos who is on the path of Spiritual Awakening. He likes to Inspire People to succeed in their full potential. He's a Motivator, Life Coach, & an Author. Ignorance is that the root of all the sufferings within the world. His likes to remove the IGNORANCE from the planet in order that human beings can connect with the highest purpose in their life. He remembers childhood experiences in nature, playing in fields, noticing the wind blowing within the trees, moments that he considers highly spiritual. Primed by years of contemplating the meaning and purpose of life, he began visiting various Spiritual Places for several years in search of a "spiritual home." He likes its emphasis on personal growth and interfaith dialogue. He has spent his life reading various things to finally get to the purpose where he feels he has found a spiritual practice. He has lived with people from all walks of life. He was distracted by the "material lifestyle" he was enjoying. But in his mind he was always searching, constantly trying to find quite the fabric way of living. He had been living a quick life with none reverence, which realization led him on a concerted spiritual quest. He read the holy books of the world's religions. He received a conclusion that "All these different Scriptures have an equivalent message. We'd like to abandoning of the fear of death and resign ourselves. Don't fear and do not worry." Spirituality, he said, "is a discipline that helps bring back a balance within the mind and an impact of the mind. The suffering lifts; the fog disappears. and that we can enjoy and appreciate the sweetness and magic of creation. It causes you to powerful." He has visited to several natural & spiritual places to seek out a better spiritual energy and awareness. He had studied many philosophical books in life which opened his mind. He is a philosopher. He really wanted rock bottom line of everything. Looking forward to attach with like-minded spiritual people on this Earth who are within the process of greatest spiritual awakening and Enlightenment.