If you were to meet noted musician Kailash Kher, you'd enjoy his entertaining one liners, his impromptu lyrical eruptions and animated anecdotes. You wouldn't be able to tell that he was once distraught and so depressed that he considered killing himself.In a heartfelt conversation with os.me, Padma Shri Kailash Kher bares his heart on Truth Be Told.
I am a prodigy of life's most difficult and dangerous fluctuations, ups and downs - states Kailash Kher.
tell a friend
Medha Shri captures the essence and offers excerpts below.
Video Timeline
At 02:40 – Kailash Kher shares about his childhood, his views about society and he answers the questions asked by Dr. Jayshree Om, Krushani Trivedi & Manisha Nandal Dahiya.

At 04:55 – Kailash Kher shares about his struggles and how he faced obstacles that appeared bigger than life. He answers the questions asked by Kavita Berry, Soanali Misra, Amrita Chattopadhyay, Shruti Shruti & Mohit Om.

At 08:38 – Kailash Kher shares about his sacrifices. He shares about the time when he gained his confidence. He answers the questions asked by Akshay Om, Tejas Gupta, Kanupriya Sen, Pankaj Kumar & Kiren Babal.

At 15:28 – Kailash Kher shares about what spirituality means to him. He shares how he discovered that music is his path to enlightenment. He answers the questions asked by Divya Pai, Abhilasha Om & Komal R.

At 22:20 – Kailash Kher talks about what kept him going during the dark times. He answers questions asked by Tanvi Sharma & Anupama Batura.

At 28:52 – Kailash Kher shares about how kind people saved him from hunger. He answers the question asked by Love Om.

At 37:56 – Kailash Kher shares three learnings of his life and answers the question asked by Kukil Om.

At 41:29 Kailash Kher shares about his inspiration, happiness, meditation and answers the questions asked by Neeta Verma & Amarendra Om Kumar Sarma.

At 46:12 – Kailash Kher talks about how he is giving back to society. He answers the question asked by Gautam Sharma.
Behind the smile of this jovial celebrity, there is a young boy barely 13 who felt so suffocated by society that he saw no other way to breathe but to run away far from home. Why? Because whenever he was asked what he wanted to be, he honestly replied, "Singer." He was made to feel embarrassed, ashamed, and useless for expressing his wish to pursue music. Everyone told him he would just waste away his life. He was used as a bad example in his neighbourhood, because he wanted to walk the unconventional path."Pandit ii ka ladka awara banega"(Panditji's son will grow up to be a vagrant)," they would all say.
He says, "Duniya mein jo sabsey alag hai, lagta woh sabko galat hai (whatever is different from the norm, is considered erroneous), because of our conditioned minds." The anomaly is not really celebrated unless it becomes a glowing success story, that's what happened with the singer, too. But he was not the one to care for society's approval.
"Shiddat se aagey hai zidd meri wo bhi muddata talak hai… Jo is tarah ke hotey hain, wo balyawastha se hi vilakshan hotey hain (I am bent on achieving that which is beyond the possible, and would do so until eternity… Those who are unique, are unique since childhood). It's not like I have now become famous or have become a star, toh main style maar raha hun (I am throwing attitude), in fact, I have now calmed down because I know people are watching me, sabki nazar mei hun mai, so I have to live a life that people like. In our society, jo different hota hai ussey vilakshan tab kehte hain jab wo successful hojaye warna toh nikama hi kehte hain (in our society, the unconventional is celebrated as extraordinary only when they have become successful until then they are just useless)," says Kailash, remembering his days.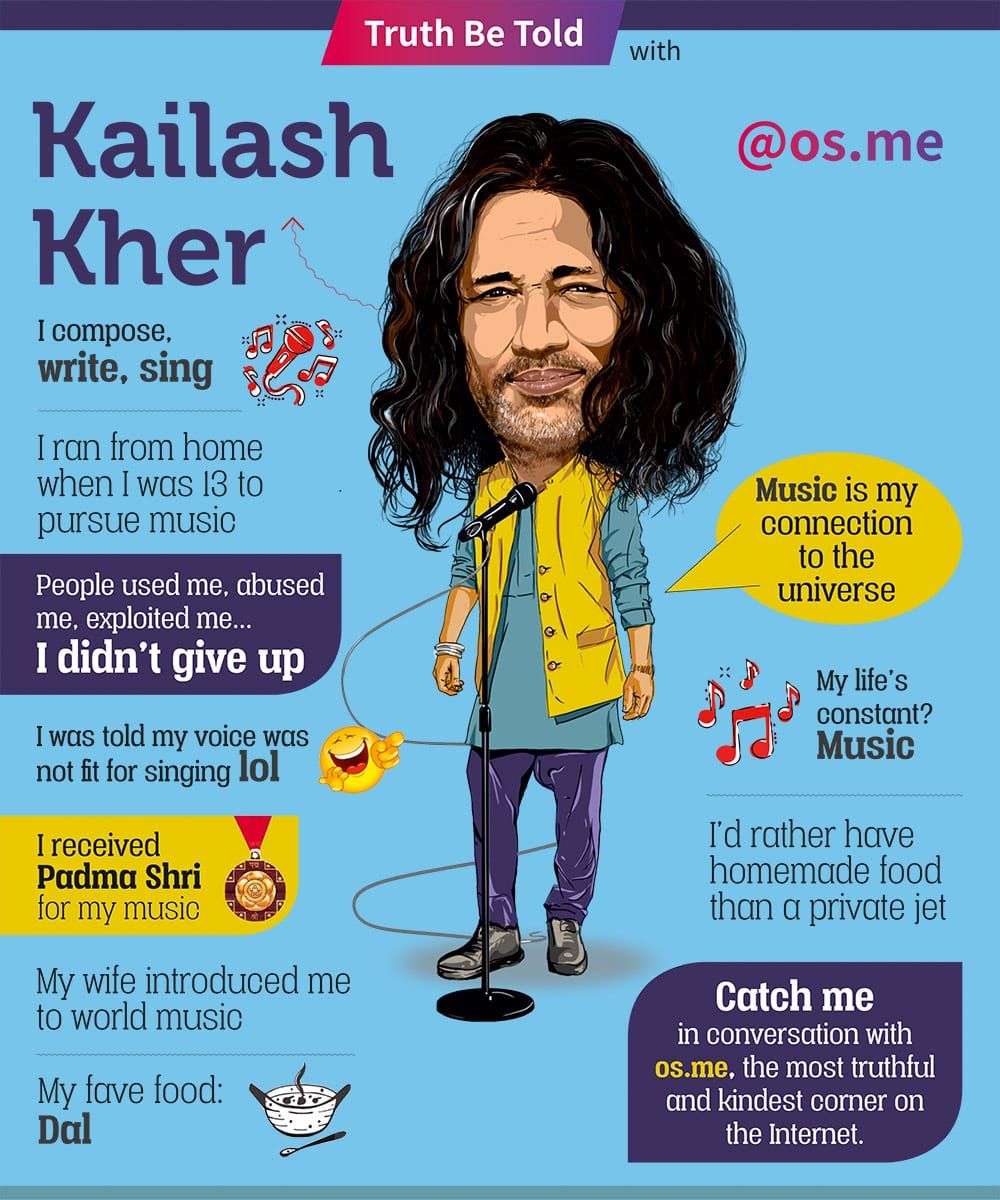 So, he ran from home without a penny on him. It was a very tough time. He was "used, abused and exploited" by people. When you decide to leave the security of your home, you choose to be an orphan. You have no one else, you are all alone, all by yourself, in the big bad world out there, and people take undue advantage, says the Sufi singer without any… tell a friend
And that was just the beginning of his struggles. That one decision, he says, took his life to dark alleys. "Aap 13 varsh ki aayu mei hi 30 varsh ke ho chuke hotey hain pehle hi jhatke pe (At 13 years of age, you have lived experiences of 30 years)," he says.
"I am a prodigy of life's most difficult and dangerous fluctuations, ups and downs," states Kailash. People around had no mercy. He was often told that he didn't have a voice fit for singing. This constant rejection forced him to take up the tabla instead.
And that was not the only struggle, even basic survival was increasingly becoming difficult. He started teaching music to earn a little. But that didn't help much. At one point of time, he thought he was going to die because of starvation. "I have never revealed this on any platform, today I am going to reveal a unique thing about my journey. There was a phase in my life when I was going through so much hunger that to just eat, to survive, was my ultimate priority… Kaise bhi mai zinda rahun, mere khane ka intezam hojaye pehle (somehow I needed to live and for that I needed to fix food on my plate)… I was thinking, 'Bhagwan, it is so tough, now it is going out of control, maybe I am going to die'," he recalls. It was as if the universe answered his prayers.
"I stopped by at an ashram in Sarai Kale Khan (Delhi), to drink water. I heard someone play the harmonium. I went in to see who it was. There was an elderly man who asked what my name was, I told him Kailash, he said, 'Your name is great, you will have an equally great journey and life'. In my thoughts, I said, 'Babaji, right now I don't even have proper food'… He called out to an elderly woman and said, 'Jathhedarni, this boy is my son now, he will have fresh prasad (meals) twice a day here. No matter what time he comes, he should get it'. Just like that, my problem was solved," laughs Kailash Kher, totally enjoying the memory.
"This is a miracle, can you believe it! For an entire year, I would stop by the ashram to have food. Even if late at night, she would say, 'Oye Kailash, I am coming' and would offer me fresh food." Although the elderly couple has long passed over, he is still in touch with their kids. When their daughter invited him to do an Instagram live, he told her he would be happy doing a concert for her.
Later, he moved to Mumbai, a busy city where no one has any time for anyone, not in the least for someone who has no godfather or contacts. "When I went to Mumbai, first they would make me wait for six-six months, and then in their fake accents would tell me that my voice wasn't fit for the hero. Kisi ko fursat bhi nahi ki sun bhi le. Sabko lagta hai har koi jo gata hai wo yahan film mei gayak bane aya hoga. Hum apna khud likhtey hain, music compose kartey hain, sound create kartey hai (No one has to time to listen to anyone else. Everyone thinks that whoever sings, is in Mumbai to become a playback singer. I write my own lyrics, compose music and create sound). Everyone is filled with their own ideas there is no emptiness so how will you have room for new ideas or thoughts," reminiscences Kailash
Savouring the memory of what followed, he shares, "A few days later, I received a call telling me that they wanted my measurements for the look test! The people who turned me away saying my voice wouldn't suit a hero, now wanted to picturise the song on me. Dekhiye, mujhe hi hero bana diya (See, I was made the hero)," says Kailash attributing his success to the supreme power. "Ye kisne kiya? Upar wale ne kiya. People will only give pain, don't expect from people. It's the universal force, the supreme that moves the earth and everything."
"That's when I learnt terms like look test (laughs), I was getting a new shirt after ages, I was happy (laughs)," says the Allah Ke Bande singer, who launches a new talent every year, under his initiative called Nayi Udaan, to give a chance to those who might not have any support in showbiz.
He definitely had a difficult life. But his indomitable spirit is legendary. Yet I ask him what gave him the strength to pursue his calling despite the detractors and naysayers? "I knew [I had the gift]…. Jab Rishikesh mei main aarti mei gaata that toh wahan kuch sadhu the jinhe mai pasand karta tha, there are very few who are Kailash's favourite, toh jab mere favourite naach rahe ho dushala khol-khol ke, toh mujhe yakin tha… Log kitna bhi demotivate karenge, let's create this kind of magic (When I lived in Rishikesh, I used to sing during the aarti. There I saw some sadhus, there are very few people who are Kailash's favourite, those sadhus were. When I saw them dance to my music, I knew I had it in me. No matter how much people demotivated, I was like let's create this kind of magic)."
Kailash, along with his band Kailasa, has been creating magic all over the world. He treats music as sacrosanct. "Music can't entertain anyone, music is only for enlightenment, it is the medium of your ultimate prayers, in my opinion," says Kailash, who feels music unites him to the universal soul and when he is low, he pens down his thoughts, out of which many memorable lines are born.
Through his sheer perseverance, passion and talent, he wrote his destiny. In 2017, he was awarded the Padma Shri. Not only is his indomitable spirit extraordinary but also his outlook on things. "Zinda hone ke liye, marna padta hai; kamyab hone ke liye, nakamyab hona padta hai; layak hone ke liye, nalayki se guzarna padta hai… Wo zindagi hamne dekhi hai To live, you have to first die; to succeed, you have to first fail; to be useful, you have to first become useless… I have seen that life tell a friend
Instead of turning bitter by all the battles, he is filled with gratitude for his life's journey. He says, it is a handicap to be born with a silver spoon, because then you don't know life, you don't know how to live it. And he is thankful for all the hardships because, "Jo tootke bana, jise maut ne jana, wo aur kya totey, wo aur kya mare… Abhi mujhe zyada khatra aye toh log kehte hai aap darte nahi? Arey mai dar ka hi putr hun kahan se darunga, mai darr se hi bana hun (He who is made from broken pieces, he who is born out of death, what will destroy him! When there is some dangerous situation, people ask me, 'Don't you get scared?' I am the child of fear, what will I be scared of)."
Oh! And if there is one more takeaway from his life, it is this: Don't stop living it up, no matter what circumstances. "Jab khane ko bhi nahi tha, tab bhi Yamaha RX100 black and gold bike mai chalata tha… Mai barbadi mei bhi, rehta tha raja ki tarah, yeh mera style tha. Bhooka rahunga, lekin dikunga aise jaise bhaut bade raja ka hi beta ho koi. Wo pagalpan tha mere andar (Even when I didn't have enough to eat, I had Yamaha RX100 black and gold bike. I was a wreck, but I lived life king size. That was my style. That was madness)," says the gifted singer whose madness is exemplary.
To listen to more never-before-heard stories of Kailash Kher's journey from the man himself, watch the full interview above. Don't forget to subscribe to our new YouTube channel.
Our os.me members had several questions for Kailash Kher, for your convenience, we are providing the markings below the video. Dear os.me community, thank you for suggesting a lovely name for this unique series, Truth Be Told.
#TruthBeTold #osdotme #kailashkher
About Truth Be Told
Truth be Told (TBT) is a unique series by os.me that features wonderful people who make this world a better place with their talent, contribution and work. We get you up, close and personal with achievers from around the world, hoping that their truthful personal narratives inspire you to be better, kinder and more truthful in every sphere of life. Check out some of our past episodes on our YouTube Channel.