Well, the wait is finally over. My first book (and will remain my dearest) has been published and is ready to go live on Amazon on Aug 21st.
The day, as some of you might have guessed, is special for me, as it's my father's 83 Birth Anniversary.
A project, which was initiated as a whim on June 7, 2019, ended up being one of the main reasons why my father could muster courage and energy to fight last stage cancer for almost 12 months. In a scenario not different from that of Mitch Albom in Tuesdays With Morrie, I would fly down every alternate weekend from Gurgaon to Coimbatore and spend those precious hours listening to my father, as he described about his childhood, his struggles from poverty, his glory days, his tryst with corrupt practices and most importantly, his journey of spirituality.
This group has been instrumental and giving me the courage and confidence as I gradually evolved in my career as an author. I am so proud of the platform and the love and affection that each of you bestowed on me, that I have even indicated about my linkage in my profile on the book cover.
Many of you have seen various facets of my father through the Sunday Musings that I ran for 21 weeks a few months back. The diary writings are also neatly summarised at the end of the book as well.
Proud to present to this platform, Against All Odds – Life of Kishore V Sonpal. Sharing the book descriptor :
---
Against All Odds is the remarkable story of a man who broke through shackles of poverty and scaled the heights of perfection in different fields.
Kishore V. Sonpal's life depicts the triumph of hope and confidence over adversity and obstacles. All through his life, he built a legacy of simplicity, spirituality and integrity, leaving behind an indelible impression on countless lives.
Born at a time when his father had gone bankrupt, Kishore had a tough childhood. After being schooled in municipal schools, he self-funded his engineering. Deeply influenced by Mahatma Gandhi and Swami Vivekananda, he lived his life on the principles of simplicity and truthfulness. In five decades of professional life, he transformed the rusty ways in both public sector as well as private companies that he worked with; joined a startup in an alien domain in his fifties; and shunned a retired life to help sharpen young minds in his seventies. He also survived two pandemics and narrowly escaped death multiple times.
Written engagingly by his son, Hetal Sonpal, this awe-inducing book describes how his father overcame numerous challenges to create extraordinary memories and learnings for a fulfilling life.
In a narrative written with searing honesty, Hetal weaves together a string of life-changing experiences and creates a mesmerising ode to his father. This is a truly riveting read that will inspire readers, both young and old, to boldly face challenges and not give up in times of adversity.
---
As this group platform means so much to me, I am sharing the details about the book exclusively here first. The details are yet to be revealed on social media. Its will available from Aug 21 on both hardbound and kindle versions.
Sharing the link for pre-booking on amazon: here
If you prefer purchasing on Flipkart , then please click here
The Link for people outside India to purchase the kindle version is here
I hope you all will show as much love and affection to my father's book, as you did to his musings. This is NOT a commercial venture. My intent to publish the book is, that by knowing about my father's life journey a lot of people can discover the Kishore within them; relook at the challenges that they face in life and fight them with lot more rigour and confidence. I have lived my life that way, and will continue to do so.
Thanks once again and appreciate your love and kindness, as always.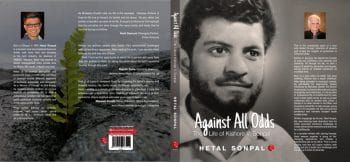 ---