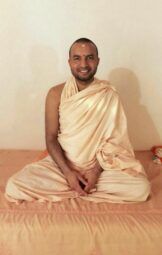 Today I would like to share my experience, please don't be scientifically judgemental but try to believe it with devotion !
Not once but many times I have prayed to Swami Ji at difficult situations of life, from being career guidance, health issues, or small-small things like please help me wake up early in the morning…..he has listened to all my prayers/ requests just like a Divine Parent !
It was 2016 I had met Swami Ji for the first time in Dec'2015 and visited Aashram in 2016 winters after coming back, just like you talk to ur friend, I requested Swami Ji that I am unable to wake up early morning as the anti-depressants I take make me very drowsy. So what I did was made an OM SYMBOL on my palm with a Mehendi cone praying at his divine feet to help ! And guess what I was awake sharp at 6 am the next morning without an ALARM ! and without a heavy headache or any sort of drowsiness.
Then the Dilemma was about choosing Higher Education or Professional Growth, with minimum effort and only and only due to his grace I cleared UGC NET examination which meant I could apply as an Assistant Professor or get admitted for PhD. with a handsome scholarship every month that too from Central Government !
Then I wanted to be a part of any central university for a Ph.D. Guess what Swami Ji granted me JNU ( Jawaharlal Nehru University, Delhi ).
Mom keeps sharing about her several dreams in which she discusses me and my sister with Swami Ji 🙂
The list is long…..will share some more Divine Experience in later posts…for sure…..
Just have faith….HE will give you DARSHAN Also ( If you are not able to meet him in person and your yearning is pure )!
 I have created a beautiful playlist of Swamiji's Photos and Videos with bhajans sung by him on my YouTube channel named "Sukriti Jain" Do have a dip in the ocean of devotion.
Jai Gurudev, Charan Sparsh!
Regards,
Sukriti Jain.
(By the way, do you see the TRIMURTI in the above pic 🙂 )
---