It all started in the month of September 2019 when call for paper was announced by "International Youth Nuclear Congress" – a very acclaimed international body established in 1998 and holding this biennial event regularly since that year. I was registered in IYNC, India when I attended a Symposium in Department of Atomic Energy (DAE) Conference, Mumbai presenting a paper on Neutron Radiation Monitors. I was fortunate enough to get my abstract accepted and I was asked to submit the full Paper for the Sydney Summit.
I have been trying to develop a generalized algorithm to be deployed in any Radiation Detection System with various features in accordance with International Standards since last 4 to 5 years. I have been experimenting and fine tuning it. Finally, with God's grace, I got the opportunity in form of this call for Paper. But the road was not easy.
The conference was slated to be held in Sydney for which registration charges was around INR 60,000. Travel expenditure was working out to be upwards of INR 1,00,000. Staying at Sydney for the entire period of the conference and food charges were around INR 80,000. The amount was hefty. So, I put up a request to our Head of the Division seeking official approval. He was kind enough to initiate and process the file which required our director's approval.
It was a long process of approvals as it was a Govt. affair. Clearance was required from very high ranked officials involving PMO (As Nuclear Science comes directly under PM). It was totally a hopeless situation. But my luck shone and I got a break through due to a very helpful Under Secretary at PMO. After the approval was obtained, I applied for VISA at the Australian Consulate in Hyderabad. The novel Corona Virus situation had just started worsening by the time and there were delays in getting VISA approval. It was just 10 days to go for the conference and I did not have the VISA.
Finally, the most awaited on-line VISA approval popped up in my e-mail Inbox. But still things were hazy as travel curbs were starting and many International Events were getting called off. There was a big doubt whether the conference could take place in the first place itself. But again, by God's grace the Organizers continued with the conference and I travelled to Sydney on 08th March 2020 wearing an N-95 Mask for the first time in my life 😉. I was very nervous as I was travelling abroad for the first time that to another continent and in southern Hemisphere. But one of my school friends was there in Sydney and on contacting him, he readily agreed to offer all possible help which eased my stress to a lot of extent. It was another divine indication.
The organizers made vey good arrangement and very courteous. Australian Nuclear and Science Technology Organization (ANSTO) was directly taking care of all the Conference Attendees. The conference venue was a very nice one with optimum safety. Participants of about 70 countries from all over the globe were attending the conference ranging from Kenya to Canada. From India, 6 participants were there. It was really an honor to represent India at such an International Forum.
The venue of the conference was International Convention Centre (ICC) Sydney. The Convention Centre was equipped with all modern facilities one can imagine along with Artificial Intelligence enabled gadgets. In the backdrop, the iconic Sydney Harbor Bridge is present. It is a really beautiful view. Frankly speaking, being my first international conference and that to at such a huge level made me nervous. But the inaugural session was very interesting with traditional aboriginal Australian welcome. The aboriginals of Australia burn eucalyptus leaves and bath in the smoke to drive away any evil spirit or bad omen along with playing traditional wind instrument. It was a nice experience.
Then the conference kick started, and my category was Nuclear Radiation Protection. On the fourth day, my talk was scheduled. It went very nicely. Every presentation was being evaluated by very learned Jury Members which I was not aware of. On the last day, it was announced that out of the 380 Papers presented in the conference, top 50 Papers had been selected and they would be further scrutinized by a larger group of worldwide Jury Members from various domains of Professionals, Academicians, Scientific Officers, Researchers etc.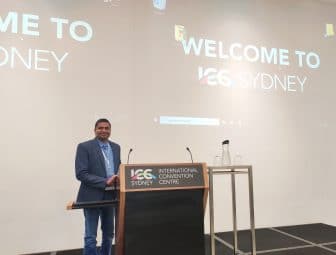 My Photograph while presenting the Paper. (Though I look handsome in the pic, I am not that much 😉, Actually Gadhe ko bhi Coat pahna doge toh woh bhi handsome lagega 😉. It the special effect of the coat, meticulously chosen by Sanghamitra.)
Now it was time to bid farewell to Sydney. But the conditions had become very critical with WHO declaring COVID 19 as a Pandemic, flights getting cancelled rampantly, it was a horrible experience. I was totally in distress whether I could return home or not. Similarly worried were Sanghamitra and Sahil. On 15th March according to Australian Standard Time, at morning 09:00 hrs, I took my return flight back to Hyderabad via Kualalumpur. At Sydney's Kingsford International Airport, there was a serpentine queue of New Zealand nationals as New Zealand Govt. had given 48 hours' deadline for its citizens to return to New Zealand. All in-coming flights from Asian, European Countries and the US were suspended indefinitely.
On 16th March, 2020 IST 02:00 hrs, I reached Hyderabad Airport. Medicos were present with Thermal Scanner and other test equipment. It was really frightening. I arrived home at 04:00 (early in the morning). It all happened by sheer luck and God's grace. The next day, the news was out that India banned all flights from Kualalumpur from 18th March 2020. I was saved by a whisker from being stranded in an unknown country. Also, Indian Nationals arriving afterwards were being directly taken to quarantine centers which I escaped narrowly. The next day Greater Hyderabad Municipality Corporation (GHMC) officials visited my home and placed a banner stating " House Under Quarantine , do not visit". I was being monitored for my health condition everyday up to 15 days by the officials.
Again, by God's grace, I was fine and showed no symptoms of any infection and after 15 days, I was given green signal by GHMC who removed the warning. God had much more in store for me. In the last week of April, 2020, I got a message from the Organizers that, my Paper had been selected in top 25 Papers of the conference. In fact, it was ranked 15th and the only one from India. This was a really proud moment for DAE and India. The reward was an elaborate version of the Paper to be submitted to Nuclear Engineering and Radiation Science (NERS) Journal of highly prestigious American Society of Mechanical Engineers. It was totally a very satisfying experience for a first timer like me.
I bow before the almighty to convey my deepest gratitude to provide all the suitable circumstances to achieve whatever I have achieved. It is the guidance of the Supreme Power at every step which just seems like a dream now when I think about the events travelling back in time.
Thank you one and all for going through the post. Jai Shri Hari…
---