My dad Kishore V Sonpal, was just short of 82, when he breathed his last on June 12, 2020, 01:24am. He built the habit of maintaining a diary right from his late twenties, when he took up his first job with Indian Railways, way back in 1964. His writings have stood the test of time. They are as relevant today, as they were, when he penned them down. I am sharing third of these diary entries. Just like me, hope you will also find subtle meaning in his writings.
Here is the Fourteenth share: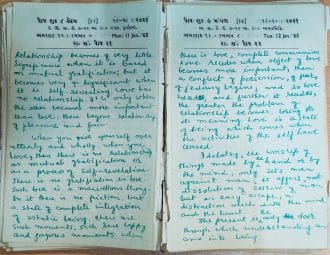 Transcript of the Image:
---
Relationships become of very little significance when it is based on mutual gratification; but becomes very significant when its based on self revealing.
Love has no relationship.It is only when the other becomes more important than love, there begins relationship of pain and pleasure.
When you give yourself utterly and wholly, then there is no mutual gratification or as a process of self realisation. There is no gratification in love. Such love is a marvellous thing. In it there is no friction, only a state of complete integration of ecstatic being. There are moments, such rare happy and joyous moments when there is love and complete communion. Love recedes when object of becomes more important, then a conflict of possession, fear, begins and love recedes. The further it recedes, the greater the problem of relationship becomes, losing its meaning. Love is a state of the being when the activities of the self have ceased.
Idolatry, the worship of things made by hand or the mind, only sets man against man; it offers, not dissolution of sorrow of man, but an easy escape, a distraction that dulls the mind and the heart.
The present is the only door through which the understanding can come into being.
---
A beautiful note on love and relationship and how the two can inadvertently be confused as the same and yet there is so much of depth on the subject, which is not easily understood.
---