Koti koti pranam and sastang dandavat at your lotus feet oh dearest Swamiji.

This is a year round up blog specially for offering gratitude to you, the universe and everyone. The year 2021 was a phenomenal one for me and my family, courtesy: your unconditional grace, love and affection like that of a parent, along with invaluable teachings of a great Teacher and many more. There are several categories of gratitude offering.
1. For Personal Life:
I) I want to start with Sahil. He has cleared the TRINTY College of London, elementary level with distinction in the category Electronic Keyboard . It is only your leela that out of so many musical instruments, he chose the keyboard, of which Piano is an integral part. And everyone knows your love for piano and expertise in it. Hey Bhagwan, we are surrendering the certificate at you're your lotus feet. Please accept the same with the following music piece played by Sahil, as an offering.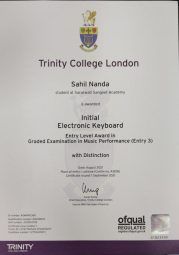 II) Apart from occasional bouts of a Grihasth problem, otherwise our family life was quite peaceful where love prevailed most of the time. Understanding each other has improved with a strong family bonding. Bonding with extended os.me family also deepened to a great extent. Life has been blissful throughout the year.
III) Spirituality is now a part of my life. Daily Puja with more bhakti and remembering you as soon as I get up, and before going to bed with intermittent remembrances has become my second nature. Reduction in wasteful time spent on the internet has been another hallmark of this new life. Now I can write with conviction that, my time spent on the internet has more than 90 percent quality time as my Facebook account is nearly dead and I have forgotten when I last visited it let alone updated the same.
IV) Music (both soulful bhakti as well as energy booster ones) has become a part of my life. I am now murmuring music in leisure, at work, in the neutron lab with a sense of auto satisfaction.
V) Books have re-entered in my life. Both related to my work, leisurely activity books and Spiritual ones. Sadhvi Vrinda ji's book—A Prayer that Never Fails—travels with me to be under my pillow and I just not only sleep, but relax and recharge after waking up from Ma's lap.
VI) Swamiji, you have eliminated the fear of car driving from my mind. We had purchased a car way back in 2014, but due to an unknown fear or phobia behind the wheel, I was not able to drive the car which we ultimately sold in 2017. In 2021, we purchased a Grand i10 NIOS Smart Automatic Car during Dussehra and I am now able to drive the car confidently in the most precarious Hyderabad traffic and road conditions.
VII) With almost ailment free year for our entire family, I could not have asked for more. Thank a lot Swamiji for keeping us healthy, both physically and mentally.
VIII) I have become more compassionate, kind and empathetic over the year. Even, after a spike of anger for those who have not behaved in a just manner or harmed me, I am relatively less aggressive toward them and more analytical than being critical of them. This encompasses human beings, floras, and faunas and even the one who do not have life. I have developed a deep sense of attachment with the universe.
2. For Professional Life:
I) It was like a dream come true. Award from Department of Atomic Energy, various literary awards, awards in various Hindi competitions dotted the calendar like never before.
II) Technically I progressed a lot with various new ideas in my area of work. I got the courage and conviction to face technical challenges and focus more on resolving them, rather than whining over them. Your guidance has dramatically improved my intuition and trouble shootings have become faster and swifter. With your grace, I could not only resolve problems pertaining to my area of work, but also contributed to my colleagues' work and resolving their problems. Now my approach has become more persistent and confident.
III) With your knowledge being channelized in my mind, I am almost at the verge of resolving a long standing problem that has persisted for 7 years. I have become more responsible and willing to take on challenges. I am trying to be less dependent on others for the work, which I am capable of doing on my own.
IV) But with all these, I have not lost my sense of humour. At workplace, I am the one joking around the most. At times, it has helped my colleagues and bosses to release their tension. I am working sincerely from inside mindfully, but I am making sure that my co-workers feel comfortable working with me, rather than treating me as a workaholic pagal. Accepting my faults has become a graceful change in me. At the same time, not convicting my juniors for any mistake and trying to take maximum responsibility on my shoulders for their failures is an amazing feeling which has given a new meaning to my life.
3. For Financial Life:
I) Yes, this also has got a lot of positive thrust. Previously, I had a different expectation from my father and father-in-law, in matters related to money. I was the least involved in financial matters of our house, thanks to banker wife Sanghamitra. But this year has taught me a lot more on this front.
II) It taught me how to be more systematic in financial matters. It is your financial management transmission, which upgraded the software. I am slowly realizing how to utilise money for the near and dear ones who matter the most in my life. Also at the same time I have been realizing the significance of daan. I have made a mistake in finding the proper patra for daan in some cases, nevertheless, I am learning.
III) You taught me how to be cautious with all money related matter, gave me a jolt when one of my friends did not repay the money taken from a chit fund where I signed as one of the sureties way back in 2018. The matter aggravated to a very high level. But you wanted me to learn a lesson, at the same time in a graceful manner, rather than a harsh manner. After I understood my fault, you stepped in to resolve the matter. Though the matter is not fully resolved, significant progress has been made in the issue. With your blessings it will soon come to a logical conclusion.
IV) You also taught me that, one's hard earned money cannot be looted by anyone. One of the online learning institutes made us pay nearly half a lakh rupees for Sahil's online studies, which turned out not to be up to mark. But, the institute was stubborn in refunding the money. But we followed the issue with a lot of spirit, fighting for our rights. With your grace we got the full refund after three and half months.
4. For The departed Souls
I troubled you praying for a lot of souls, including my colleague Srinivas (departed due to COVID 19 complicacies), two elderly figures of our gated community (departed due to old age ailment), Smt. Asha Tripathi, my colleague's mother (where I got a first-hand experience of the entire process of cremation for the first time in my life), Chinu nani (my elder cousin sister, departed in a road accident), Biswa Ranjan (my junior, departed due to cancer). I am convinced that you have listened to my prayers and taken care of the souls in their after-life journey.
5. For The Featured Posts
The phenomenal year had more in store! The highly talented os.me editorial team was kind enough to have as many as four of my blogs selected to be in the 'Featured Post' category in the last four months. I am particularly indebted for the latest 'Featured Post' on the cute little soul 'Furry'. May her little soul find solace under Swamiji's guidance, wherever she may be. Swamiji, it is a clear indication that you have heard the cry of the mother cat which was expressed in words by me. These featured posts are a great encouragement to bring out the best writer inside me, not in terms of words, but in terms of emotion. Thank you esteemed editorial team.
6. For os.me family members deserving special mention and gratitude:
Though the entire os.me family is very closely knitted, some members who have impacted my and my family's life, need special mention not necessarily in accordance with ranking 😉.
I) The very talented Medha Shri ji: Her combing operation through the jungle of blogs posted by members for quality ones is really commendable. Several times, she has made references to my blogs. And her choice of blogs is simply a treat to go through.
II) The resilient Shalini Pandey ji: Unfailingly, in each and every blog of mine, she has posted her valuable comments along with kind words of encouragement. Now she is a bit busy acquiring new skills.
III) The affectionate Meera OM ji: No wonder she is the blog queen of os.me as she has vast experience in almost all walks of life. She has made very witty comments full of humour in most of my posts. I like pulling her legs and I am sure that she enjoys the same 😉.
IV) My Technical Guru Madhavi ji: She has guided me a lot in the year regarding improvement of my work and future plans, though at times moving round and round on the same point.
V) The very compassionate and kind hearted Sushree Diya Om ji: She is very epitome of a perfect reader. Nothing escapes her Sherlock Holmes type scanning with minute details. I always wait for her comments after writing a post!
VI) The amchi Marathi lady Suchali ji: She has been quite an inspiration and her kind words propel me to write more. I love Marathi Jhewan!
VII) The Star Amruta ji: It is her DP from which I borrowed the word 'star', just kidding 😉. I love her appearance in the comment section.
VIII) Kirti Om, Supriya and Ankita: I found three younger sisters in them for which I am really thankful.
IX) The composed Ajay Om ji: He has gone through a lot of my posts and commented on several occasions with deep insight.
X) The nar (Man) Kukil Om ji: Initially, I mistook him as a lady, but later he clarified the confusion and things are fine now 😉!
XI) The Bajrangi Bhaijaan Pankaj OM ji: He has imparted the importance of reading Hanuman Chalisha as a Puja ritual to strengthen my soul.
XII) My lovely bacha party comprising of Nalin, Ashu, Vedant, Tahira, Meera, Rashmi, Komal, a big bacha Kavana 😉, and many more who look at me for inspiration.
I was really honored to have comments of Sadhvi Vrinda Om ji, Shradhha Om ji and, Sushree Nitya Om ji. Your divine blessings will guide me further. My naman to all the os.me family members for your non-judgmental approach and unconditional love for me and my family.
The blog is the largest one I have ever written on this forum. Hope the readers are patient enough to go through the entire post and forgive me for taking away some valuable time.
Advance Happy New Year 2022. May this new year bring all the human beings on earth, more meaning to their lives.
Swami ji, your charanashrit Biswa, Sanghamitra, Sahil and …
Jai Shri Hari…
---