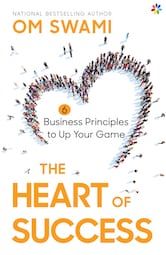 The Heart of Success
Six Business Principles to Up Your Game
You may have an Oscar-winning screenplay and a star-studded cast, but no scene is shot without "action."
Successful people who turn their dreams into reality do so with extraordinary hard work. Drawing from his years of experience as a serial entrepreneur who built and nurtured a number of start-ups into multi-million-dollar enterprises, bestselling author Om Swami opens up in this book like never before.
The Heart of Success is yet another masterpiece from the monk who actually sold his Porsche and picked up a pen for a living. No matter who you are—an entrepreneur or an aspiring one, a management graduate on your first internship or a seasoned manager—by the time you finish reading this book, you will be better equipped to succeed in business and life as well as handle the responsibility that comes with success.
With plenty of humor and anecdotes, find out what it takes to be successful, no matter what.
Become a member
Join me on the journey of life and gain access to exclusive content right here.