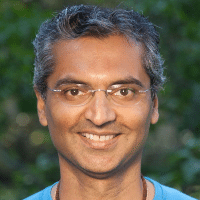 Niranjan Seshadri
Dr. Niranjan Seshadri writes about the mind-body relationship and the power of awareness to harness the inner potential that lies within every human being. He has published numerous collections of poetry exploring the mystical and philosophical aspects of human existence. To learn more, visit—amazon.com/author/seshadri.
Sarasota, United States
Joined Oct 2019
Niranjan's Followers
---
Who am I? Just yet unknown to myself. 💧👣😇 Rumi says - 'You are not a drop in the ocean. You are the entire ocean in a drop.' 🌊💧

Lucky go guy . Explorer of Life. Content & Curious. Obsessed with Comics. Ear for good story. Persistent day dreamer.

Someone who One Day saw A Lotus eyed Smiling Sage, 🌷 whose one compassionate glance burned away a 100 sins and set her free.🙂

Director of Om Linga Foundation and Ganesh Om Global, Masters in Industrial Engg from Kansas State University , Manhattan, Kansas, professional Bharatanatyam dance and Carnatic music teacher and performer, certified yoga instructor and yoga therapist, Personality Development Consultant, group and individual counseling for students and professors in colleges and professionals in corporations. 30 years of experience in manufacturing and management. My last job being a Senior ERP consultant in IBM. Meeting Guruji on Nov 19, 2012 has transformed my life with his blessing and grace and application of his teachings in my daily life/spiritual journey. I am thankful and grateful for ever to Guruji and offer my shat koti pranams😊😊🙏🙏🙏❤️❤️👣❤️❤️🙏🙏🙏🌸🌸🌺🌺🌼🌼🌺🌸🌸🌸🌸🌺🌺🌼🌼. FB: INSTA: GaneshOmGlobal

Held by him under his GRACE

Starving for knowledge and eager to transform my life to God's highest will.

Jeweller and Astanga Yoga practitioner. A Shiv bakth. Every thought or act of ours should purify our mind or strengthen our body. That is only Dharma.

I am Vaibhav Hans. I love writing, listening music and travelling. Check out my instagram : hansvaibhav31 to find my trip to United States (Chicago, Colorado and Virginia) and Canada. I love doing exercises like kickboxing. I believe in covering all goals of my life from spiritual to financial to fame goals. I am planning to write my first book on '8 goals of life' I am a real estate investor and a stock market investor too. I love what I do.

Did Higher Secondary Schooling at JUBBAL, Graduation at SOLAN and Post Graduation M.A.LL.B from H.P.U. SHIMLA.