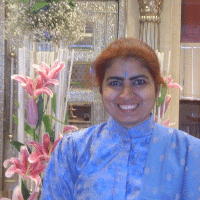 Chandrika Shubham Saini
I write for the sheer joy of creating something new! And to stay connected with friends and relatives!! 🙂
Gurugram, India
Joined Sep 2019
Chandrika's Followers
---
𝑺𝒊𝒎𝒑𝒍𝒆 𝑺𝒐𝒖𝒍 𝒊𝒏 𝑴𝒖𝒅𝒅𝒍𝒆𝒅 𝒘𝒐𝒓𝒍𝒅🌎 𝑰 𝒃𝒆𝒍𝒐𝒏𝒈 𝒕𝒐 𝒚𝒐𝒖 𝑺𝒉𝒓𝒊 𝑯𝒂𝒓𝒊

My humble Salutations at the divine lotus feet of Param Poojya Sadguru Bhagwan Om Swamiji 🙇‍♀️💐🌹💐🙏🏻

Nature lover,self analyst , evolving gradually ,found grace and love in Sri Hari Smile😊

B-school Student, reading books of Swami Ji

In this grand dance of cosmos, I am nobody. According to my dharma I am a student and a son to my parents. In the arms of Sri Hari and in the lap of Maa I seek my solace. In Swami's presence I feel the grace of Bhagwaan. Email id- bhattnalin9@gmail.com

I am forever learning from life and myriad experiences it brings along. The world puzzles me as much as it fills me with a sense of wonder. I cherish spending time in solitude.

On a journey from Somebody to Nobody. Love, Live, Laugh, Give. "They alone live who live for others" Swami Vivekananda. https://www.linkedin.com/in/trivediravi/

Dentist. A Seeker. An initiate of Sri Ramakrishna order. Blessed to be born in this ancient land of the Rishis and to have met Om Swami. To serve and to realize the Divine in everyone and everything.

My mind knows who am I but I want to experience the same at my Heart level.

Neither the body, nor the mind. I am the eternal soul, like you my friend!