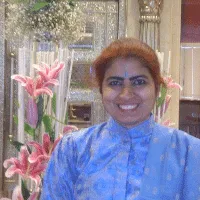 Chandrika Shubham Saini
I write for the sheer joy of creating something new! And to stay connected with friends and relatives!! 🙂
Gurugram, India
Joined Sep 2019
Chandrika Shubham's Followers
---
My humble Salutations at the divine lotus feet of Param Poojya Sadguru Bhagwan Om Swamiji 🙇‍♀️💐🌹💐🙏🏻

𝑺𝒊𝒎𝒑𝒍𝒆 𝑺𝒐𝒖𝒍 𝒊𝒏 𝑴𝒖𝒅𝒅𝒍𝒆𝒅 𝒘𝒐𝒓𝒍𝒅🌎 𝑰 𝒃𝒆𝒍𝒐𝒏𝒈 𝒕𝒐 𝒚𝒐𝒖 𝑺𝒉𝒓𝒊 𝑯𝒂𝒓𝒊

Is my bio enough to explain myself?

🙏🕉❤️OM SWAMI OM SWAMI OM SWAMI ❤️🙏🌺🌺🌺

On a journey from Somebody to Nobody. Love, Live, Laugh, Give. "They alone live who live for others" Swami Vivekananda.

Speck of dust under Swami's holy lotus feet

Starving for knowledge and eager to transform my life to God's highest will.

Introvert, Pro over thinker, book lover and beach soul. Love good conversation.