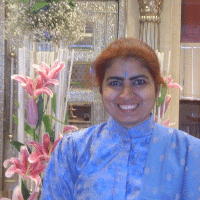 Chandrika Shubham Saini
I write for the sheer joy of creating something new! And to stay connected with friends and relatives!! 🙂
Gurugram, India
Joined Sep 2019
Chandrika's Followers
---
A traveler on the journey of life in search of my truth.

My humble Salutations at the divine lotus feet of Param Poojya Sadguru Bhagwan Om Swamiji 🙇‍♀️💐🌹💐🙏🏻

MY BELOVERED JAGANMATA, THANKU FOR GIVING ME MUCH MORE THAN I DESERVE....

A servant. A survivor. An eternal student. Born, raised, lived and learned in London, England. Now, by the Grace of my Guru, Om Swami ji, I am an evolving monk living in the Himalayan hills. I don't know very much, but life has given me one incredible roller-coaster of a ride. Perhaps my ramblings may be of some interest to you, thank you for reading them. With His Grace, Jai Sri Hari! 🙏🏻 🙂 ❤️

Creative. Sensitive. Passionate That sums up pretty much who am I. But life took a different turn when I read the Power of Gayatri Mantra by our beloved Swami Ji. And like a domino effect, one by one, read all his books and took up sadhanas. Transformation is on its way! As a person, seeker, and traveler, when I look back at the journey, I cannot stop myself from expressing my gratitude towards the almighty, Devi Maa. Just a curious being! Experiencing the power of being nobody. pzv2008@live.com

I am a balloon,full of love... flowing in Her consciousness.(Shavi is not my real name,I am a boy..DOB-Nov,1998)

Swami's own! Chandrashekarkb08@gmail.com

"They alone live who live for others" Swami Vivekananda | "Rise up and vow to do something about the cause. Use your energy to not profess your love for me but to preserve, practice, and propagate the Vedas. It would mean the most to me. In fact, it's everything to me. That's the reason I'm still here." Om Swami | Linkedin: https://www.linkedin.com/in/trivediravi/

18 Year Old Spiritual Seeker.

Singer | Songwriter | Performer | Poet | Devotee

A bhakta & a disciple, in this life & forever.

Subbu is who I am, Gurusharan is who I want to be. Right now it seems like a long arduous path, but who knows!!! If Grace allows, I might get there in the blink of an eye.