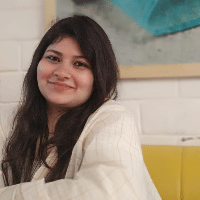 Sneh Juyal Om
@SnehOm
A simple person who is trying to follow the words of her Guruji and trying to inculcate the qualities of her Guruji in self
New Delhi, India
Joined Oct 2019
Sneh's Followers
---
Forever a student in the school of life! I love:Love,faith, compassion, gratitude! Believe in and also try to follow, Live and let Live🤗 Self Discovery, is in progress!😃

"They alone live who live for others" Swami Vivekananda | "Rise up and vow to do something about the cause. Use your energy to not profess your love for me but to preserve, practice, and propagate the Vedas. It would mean the most to me. In fact, it's everything to me. That's the reason I'm still here." Om Swami | Linkedin: https://www.linkedin.com/in/trivediravi/

A Physics enthusiast, nature lover, photographer, a researcher, a seeker getting anchored by super strong & graceful Swamiji. I want to remain a student till I die..

MY BELOVERED JAGANMATA, THANKU FOR GIVING ME MUCH MORE THAN I DESERVE....

"The Power is inside every man, the different works are like Blows to bring them out, To cause these Giants to wake up"- Swami Vivekananda

I firmly believe in what I say. And i believe that you're cherished. You are gracious. You are valuable and gorgeous.

I am a life coach and psychologist staying in Delhi. We have a 9 yrs old beautiful daughter. Both me n my husband are devotees of Om Swami ji 🙂

A clinician in a community clinic in Tennessee, USA. who is just a speck of dust at Swami Ji's Lotus Feet.

A tiny spec in the gigantic cosmos

Author, Poet and a Psychology Student..

Is my bio enough to explain myself?

May be my articles tell you more about myself than my bio.