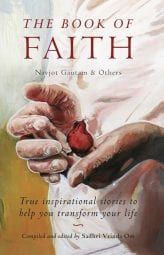 The Book of Faith
The unalloyed truth told by twelve people like you and I.
The unalloyed truth told by twelve people like you and I.
As the river of life dries up, with each passing moment, our dreams of childhood give way to the reality of life, which is not always pleasant or fair. There is so much we don't control and can't change. In these difficult and lonely moments, we wonder if there is anyone in this world or any other whom we can count on. If faith moves mountains, then how do we build such faith and how do we know it will work for us? What is faith, anyway?
From a physicist to a physician, an injured bird to an erudite Brahmin, people from different walks of life and religions share their incredible stories of rapid transformation, all united by the common thread of faith in one person – Om Swami. Every story makes you think and dares you to see the world differently. The Book of Faith is unlike anything ever written in the modern times.
NAVJOT GAUTAM is a postgraduate in Journalism and Mass Communication from Punjabi University, Patiala. She has worked with top organizations in the fields of health, education, IT and hospitality.
SADHVI VRINDA OM is an award-winning poet and author. She graduated from Sophia College, Ajmer, and went on to pursue an MBA. The turning point of her life though was to pen a mesmerizing non-fiction, Om Swami: As We Know Him. It has been hailed transformational by readers.
Become a member
Join me on the journey of life and gain access to exclusive content right here.