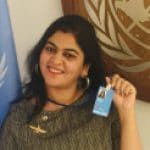 Dr.Jayshree OM
Author of the bestseller, The Ancient Science of Vastu- I & II. A Ph.D. in Vedic Vastu and Geopathology. Follow me on insta@ drjayshreeom for genuine vastutips facebook:-https://www.facebook.com/jayshreeborad
Jaipur, India
Joined Sep 2019
Dr.Jayshree's Followers
---
Nature lover,self analyst , evolving gradually ,found grace and love in Sri Hari Smile😊

Speck of dust under Swami's holy lotus feet

On a journey from Somebody to Nobody. Love, Live, Laugh, Give. "They alone live who live for others" Swami Vivekananda. https://www.linkedin.com/in/trivediravi/

I'm a husband to a beautiful wife, father to 3 little kids, and a disciple of Om Swami. Like many of my guru brothers and sisters around the world, I'm in the process of lighting my lamp and am relishing the spiritual journey.

𝑺𝒊𝒎𝒑𝒍𝒆 𝑺𝒐𝒖𝒍 𝒊𝒏 𝑴𝒖𝒅𝒅𝒍𝒆𝒅 𝒘𝒐𝒓𝒍𝒅🌎 𝑰 𝒃𝒆𝒍𝒐𝒏𝒈 𝒕𝒐 𝒚𝒐𝒖 𝑺𝒉𝒓𝒊 𝑯𝒂𝒓𝒊

Yoga and Meditation Lover

My mind knows who am I but I want to experience the same at my Heart level.

Starving for knowledge and eager to transform my life to God's highest will.

"The Power is inside every man, the different works are like Blows to bring them out, To cause these Giants to wake up"- Swami Vivekananda

Walking the path shown by my Guru my Swami .. trying to discover my own truth .. deeply in love with my Lord .. a devotee .. a lover .. a surrendered soul

In awe and gratitude for seeing, meeting and connecting with my Guru - my Master - my Prabhu : SRI OM SWAMI JI in this lifetime.

Author ,Photographer . Food Blogger . Pursuit of truth and beauty .