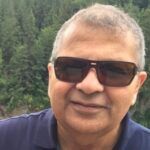 Niraj Chandra
@nirajch
Hi, I am Niraj, born on Indian soil but now transplanted to Canada. I am a traveller in space and time.
Niraj's Followers
---
Spiritual Writer & Speaker. Sharing my experiences and insights for those who may need them.

On a journey from Somebody to Nobody. Love, Live, Laugh, Give. "They alone live who live for others" Swami Vivekananda. https://www.linkedin.com/in/trivediravi/

Nature lover,self analyst , evolving gradually ,found grace and love in Sri Hari Smile😊

Bridge player and software developer.

Poet. Fictionist. Motivational Blogger. YouTube Content Creator. rishisridhar.com

I am offering complete surrender and devotion to my beloved Guruji. My existence to my love, Sri Hari Ji, is my Divine Ma in the form of Om Swami! 💓🙏 🙏💓 Feel free to reach out to me at sonasriom@gmail.com

Speck of dust under Swami's holy lotus feet

I am just ordinary devotee of swamiji, haven't met him in live, just on YouTube and Zoom. Live in Osmanabad. Write fiction stories, true stories and like to listen to Om Swami and play Cricket. Hope all of you enjoy it.

My mind knows who am I but I want to experience the same at my Heart level.

Starving for knowledge and eager to transform my life to God's highest will.