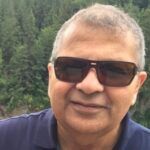 Niraj Chandra
@nirajch
Hi, I am Niraj, born on Indian soil but now transplanted to Canada. I am a traveller in space and time.
Niraj's Followers
---
Creative. Sensitive. Passionate That sums up pretty much who am I. But life took a different turn when I read the Power of Gayatri Mantra by our beloved Swami Ji. And like a domino effect, one by one, read all his books and took up sadhanas. Transformation is on its way! As a person, seeker, and traveler, when I look back at the journey, I cannot stop myself from expressing my gratitude towards the almighty, Devi Maa. Just a curious being! Experiencing the power of being nobody. pzv2008@live.com

I am offering complete surrender and devotion to my beloved Guruji. My existence to my love, Sri Hari Ji, is my Divine Ma in the form of Om Swami! 💓🙏 🙏💓 Feel free to reach out to me at sonasriom@gmail.com

Ex-flight attendant, aspiring yogini. Mother of four, I love to pray, meditate, mantra chant, write, Hindu mythology, and all things yoga- not necessarily in this order. Thanks for being here.

I firmly believe in what I say. And i believe that you're cherished. You are gracious. You are valuable and gorgeous.

Starving for knowledge and eager to transform my life to God's highest will.

Seeking • Meditating • Learning

Doctor and teacher by profession, seeker by heart.

"I shall be telling this with a sigh, somewhere ages and ages hence: Two roads diverged in a wood, and I— I took the one less traveled by, And that has made all the difference."

I'm grateful to the Universe for this wonderful life and the opportunities to get the best out of it. "Arise, awake, and stop not till the goal is reached" - Swami Vivekananda.

Author, Poet and a Psychology Student..

I m a Senior Government Government of India Officer. I have been reading Om Swami Posts and Books . I visited Sri Badrika Ashram for the first Time 24-25 April 2022. Very inspirational and uplifting place. I relish each & every moment at the Ashram and it appeared as if I am at Kedarnath and it refreshed my first Kedarnath visit in 2000

Did Higher Secondary Schooling at JUBBAL, Graduation at SOLAN and Post Graduation M.A.LL.B from H.P.U. SHIMLA.