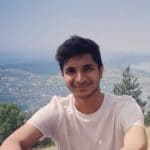 Vidit Gujarathi
@Vidit
Chess player by Profession, flawed by nature, traveling on the lifelong journey of Self Purification.
Nashik, India
Joined Sep 2019
Vidit Gujarathi's Followers
---
A journey from Somebody to Nobody. "They alone live who live for others" Swami Vivekananda.

Through diversities of life I see myself untying knots that are holding me from absolute freedom. Always at the holy feet of SriHari and Swamiji.

मेरा समर्पण जुगुनू की तरह है जैसे घोर अंधियारी में फैलते -सिकुड़ते उसके अंदर रोशनी के नन्हे कण, पर मेरा अस्तित्व पूर्णतः उनकी कृपा का उत्पाद है। ॐ स्वामी नमो नमः⚛️❤️❤️🌺🌺👏👏👏👏

A schoolgirl in the morning, blogger by noon, bibliophile by afternoon, craft lover by evening, guitarist by late evening, poet at night. She loves food so much that she eats it everyday. Lives life to just one mantra- Live. Laugh. Love. Give.

Just a young explorer in the world of spirituality.

I am a student ( I mean it literally I am fourteen, but you may take it metaphorically if you like ;)) , a bibliophile , an ambivert and a devotee.

My journey is to become music from being a musician.

A crazy cuckoo in love, singing glories of my Mother Divine; a teardrop at the pink lotus feet of my Master, a nobody, just a happy bundle of life, full of my Mother's joy who only wishes to spread loving kindness, smiles, hope and compassion around, truthfully treading the path that my Master lights in his playground. I am not a Bhakta, I am not a Gyani, I am not a worker for the Lord. These are only what I aspire to be blessed as. What am I then? A tool in the hands of my Master, a flute blown by the Divine Enchanter, a leaf driven by the breath of the Goddess - that's all the labels I would wish to identify with to introduce myself for the rest will fall off anyways.
Viewing 1 - 19 of 19 members