"My father-in-law beat me up so much I fainted. I told my parents I didn't want to live like my mother nor die like my sister," recalls Anchal Sharma, founder of Meals of Happiness and CanHeal, who shares her incredible story with Medha Shri on this episode of Truth Be Told.
She is strong, brave, and courageous. Above all, she is kind, empathetic, and loving. Despite all the difficulties in her life, her glass is always half full.
Meet cancer survivor Anchal Sharma who survived cancer, abuse, sister's murder, and threats only to come out stronger and kinder! via @osdotme
tell a friend
Timestamps
00:01 to 04:38 – Introduction. Anchal Sharma shares how she started Meals of Happiness on her way to cancer treatment

04:39 to 05:33 Abusive father, no money. Had to drop out of school

05:34 to 7:34 My employer cheated me of my hard-earned money

09:21 to 11:37 My sister's husband murdered her

14:13 to 16:43 Forced to marry a disabled person, survived domestic violence

19:22 to 20:12 House was demolished

21:35 to 25:42 Got diagnosed with advanced-stage breast cancer

33:50 to 38:13 Served 2 million meals during the pandemic

42:35 to 45:49 What keeps me going

45:50 to 46:32 Do you believe in God?

47:21 to 48:16 How to help society through Meals of Happiness
Through her NGO, Meals of Happiness, Anchal served 2 million meals during the first three months of lockdown alone. She raised ₹1.5 crores for her cause. For someone who had no food growing up, it is spectacular that she has become a provider for so many. "We were a family of six people in a small room we called home," she shares, adding, "We didn't have any food. On some days, we ate a chapatti with chilli powder and water; on most other days, we slept hungry. Our father had become an alcoholic, and if he were having a bad day, he'd make sure everybody was having a bad day. He would spit in our food, whatever little we had… I come from a very humble home and social strata. I had to drop out of school when I was only 15 to fend for us." Instead of becoming bitter about it, Anchal let those memories shape her purpose of life.
"The first time I thought of feeding people was when I was on the way back from the hospital, two days before my chemo pot surgery. A few kids, I think three, knocked on my window to ask for money. I refused because I didn't want to encourage begging or child trafficking. But I could tell they were starving because I had been in that situation. So, I took them to a food stall. And it was such a wonderful experience. They were describing what they wanted, how they wanted chow mein prepared, et cetera. In those 20-25 minutes, you won't believe, I totally forgot I was diagnosed with cancer. I was so happy seeing them happy. In that moment, I found the purpose of my life… That is what I was looking for. That's how I started Meals of Happiness."
Anchal didn't have the resources for even her own cancer treatment, yet she wanted to ensure these kids never slept on an empty stomach. She had the will, and she found the way. She shares that her mom would cook for those five kids, and she would distribute those packets on her way to hospital. Gradually, the number of kids increased. So, her mom and brother started packing more food. "I didn't think I would have an NGO or something. I just shared my food with them because t made me so happy. When I shared with my friends about these kids and the work I was doing, they said they wanted to pitch in. It brought them joy, too. Someone suggested that we register an NGO, so we did. They only helped us do all the work."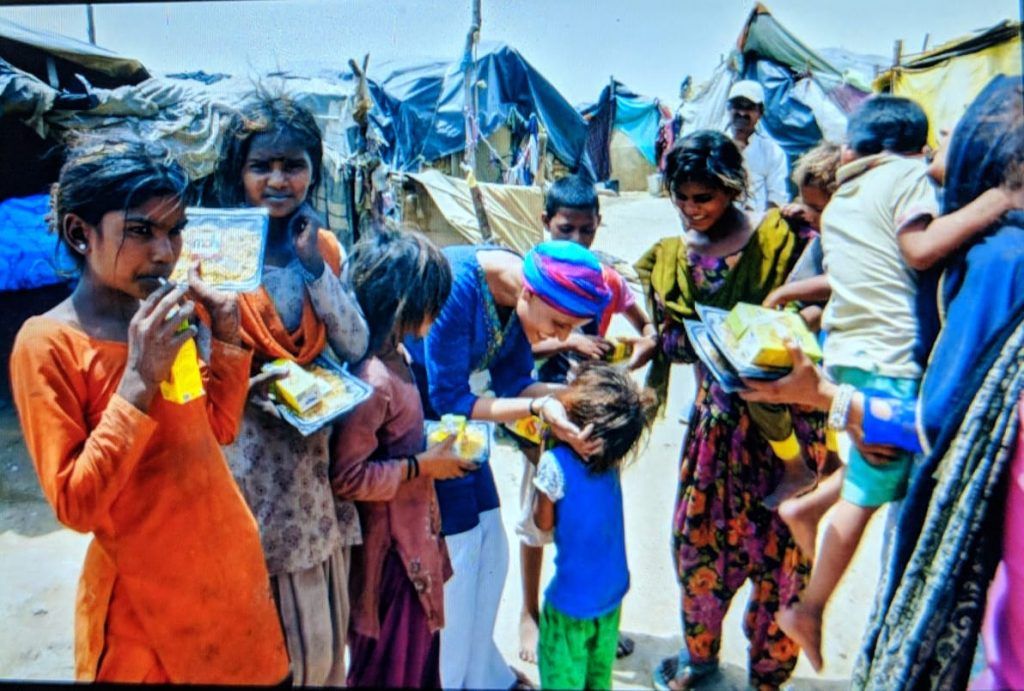 "As they say, when you want to do something, you find a way. That's what happened to me. More people joined us. They donated money and ration kits," she smiles that wonderful smile. And when you are a good person with a pure heart, the universe conspires to save you. "When I was diagnosed with breast cancer, it was at a very advanced stage. I went to the doctor a little too late [watch the full story in the video]. I didn't have the money for treatment, but help kept pouring in. I found very amazing doctors, people sponsored my treatment and gave me motivation. Today, I am all good, and I didn't even need to undergo a mastectomy."
"I told my family that I had been diagnosed with cancer only after I had had the first surgery where they implanted the chemo pot under the collarbone. I couldn't have told my family earlier because there was a wedding, I didn't want to disrupt it. And you know how people get worried about their kids' survival and all, during such times, I was worried about my family because I was earning for all of us. And I was like I have to live! I didn't want to die. I would go for my chemotherapy all alone."
"I had already seen a lot of pain by now. My younger sister wanted to marry someone, but in our homes, you are not allowed to have a love marriage. So everyone was against her, saying it would bring us a bad name and relatives would boycott us. But I supported my sister. So she married him, and everyone ostracized her. The most horrible thing happened. We found my sister's body by a drain, within six months. She was murdered by her husband. My family couldn't care less. They had already cut her off. But I wanted to bring justice to her. So I ran from pillar to post, dealing with the police, fighting a court case, braving life threats. I ensured he was put behind bars," shares Anchal, whose own marriage was a nightmare.
"My family married me off to a physically disabled person, just because my relatives said, 'Who will marry your daughter now, your younger one was murdered' — as if it was her fault." And here is the sad part: The one who fought the world for her sister agreed to that marriage for her family's peace. "In the very first month, my father-in-law beat me to a pulp, I collapsed. I didn't want to be in that marriage. My father said it was normal in our marriages to get beaten up in the first few months, then things settle down. But I told them: I didn't want to live like my mother nor die like my sister. So I convinced them to let me leave that abusive house. I did the unthinkable — I divorced him."
Penury, sister's murder, abusive marriage, child sexual abuse — she has won over all of that and come out stronger. Where did she find the strength to rise from the ashes each time? "That's not all. I was duped of ₹2.5 lakhs by the company I worked for. I got a job at a real estate company on a commission basis. I would go all the way to Gurgaon — come sun, rain or hailstorm — and I worked so hard that I accumulated ₹2.5lakhs in commission. I was ecstatic. It was so much money for us! But the company cheated me off it and denied giving it to me. The company didn't imagine I'd work so hard. Then, I was building a house for us with every penny that I had saved, that got demolished right in front of my eyes," laughs Anchal. And I sit in awe!
So, where do you draw strength to face such challenges? "See, I was not educated enough, and I wasn't financially secure. But I knew that working hard was something I could do to change my circumstances, and I wanted to change those desperately. So I worked hard. And I focused on what I had and left everything to God, jo hoga dekha jayega… I was alive and I was thankful for that. When they were demolishing our house, my mom was crying. I said, 'Mom, we are alive. Life hain na, we will build it again!' I accept the situation."
"When I was diagnosed with cancer, I cried so much. But only once. Then I decided to live it up. I decided to celebrate whatever was left of my life. So, I started wearing stylish clothes. I would go for my chemo all decked up, complete with lipstick and nice clothes. I even did a few fashion shoots during that time. And I would cheer up other patients also. I started getting invited as a motivational speaker at big-ticket events," she recalls.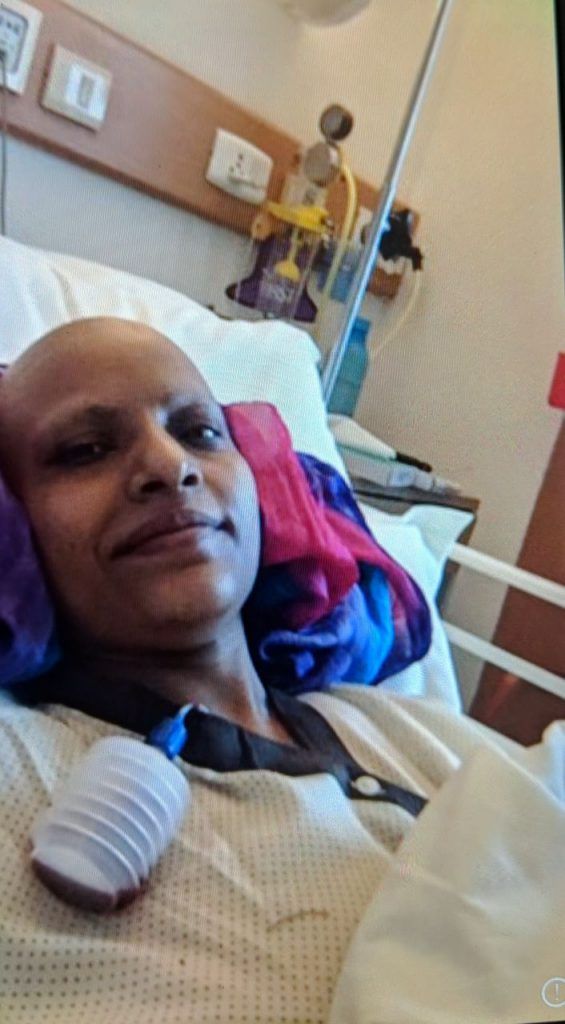 "Many of my relatives said I was going to die for sure and that cancer was my bad karma… Well, one thing I do is, block the 'what will society say' type of thoughts. I never saw myself as a victim. Whatever happened wasn't my fault. If I was abused, it was their fault. So, I just told myself to keep going on… If you have life, you have the capacity to change lives, your own and others. I talk to myself a lot. I tell myself that I have my life and I can change things for the better. I focus on my present step and leave everything to God," says Anchal, who is all set to launch CanHeal — a one-stop shop for everything that a cancer patient would need. "Cancer winners and fighters can't use normal cosmetics and because of the sensitivity, they feel comfortable only in very soft clothing. CanHeal will offer options to them and anyone who wants to gift them stuff. We will also offer counselling and every support possible," she shares with pride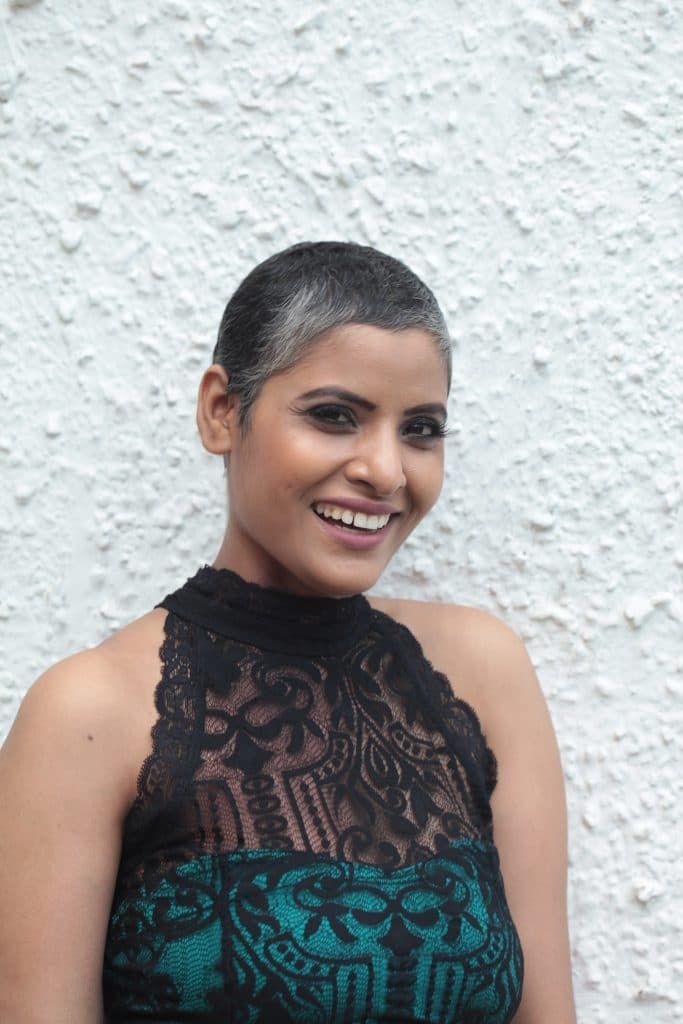 "I believe there's a God up there. There's an energy that guards us. You don't need to worship inside a temple or go to a mosque or a gurudwara or a church… Start enjoying the little things around you, and make sure if someone is suffering near you, you help them. Helping someone is my little prayer to God. And as a reward, I get lots of love. All these achievements are just God giving back to me. I have seen many miracles." Her gumption is surely inspirational.
We are told to be grateful for what we have, rather than focus on what we don't. But how is it even possible to practice gratitude when life is falling apart? I thought it was impossible. That is until I met Anchal. Her glass is always half full. How about yours?
Anybody looking to contribute to Meals of Happiness can donate ration kits, money and volunteer their time. Here's their website for more details.
#breastcancer #cancerwinner #cancersurvivor
About Truth Be Told
Truth be Told (TBT) is a unique series by os.me that features wonderful people who make this world a better place with their talent, contribution and work. We get you up, close and personal with achievers from around the world, hoping that their truthful personal narratives inspire you to be better, kinder and more truthful in every sphere of life. Check out some of our past episodes on our YouTube Channel.