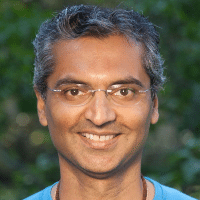 Niranjan Seshadri
Dr. Niranjan Seshadri writes about the mind-body relationship and the power of awareness to harness the inner potential that lies within every human being. He has published numerous collections of poetry exploring the mystical and philosophical aspects of human existence. To learn more, visit—amazon.com/author/seshadri.
Sarasota, United States
Joined Oct 2019
Niranjan Seshadri's Followers
---
Forever a student in the school of life! Few favourite words:Love,faith, compassion, gratitude! Believe in and also try to follow, Live and let Live😊

Who am I? Just yet unknown to myself. 💧👣😇 Rumi says - 'You are not a drop in the ocean. You are the entire ocean in a drop.' 🌊💧

Hetal Sonpal is a accomplished business leader with 21+ years in the Tech industry. He advices and mentors startups, helping them on Sales Hetal is a "Mentor of Change" for Niti Ayog and mentors school children on Innovation programs. He is also a motivational speaker and loves to write on varied topics.

For near about 19 years it is Light...Camera... And Action...Professionally.En route I found My Master(w as searching from long)...Desires never died....Full of flaws i am..a tiny sand in the ocean..one day i will merge in that ocean...

A journey from Somebody to Nobody. "They alone live who live for others" Swami Vivekananda.

𝑺𝒊𝒎𝒑𝒍𝒆 𝑺𝒐𝒖𝒍 𝒊𝒏 𝑴𝒖𝒅𝒅𝒍𝒆𝒅 𝒘𝒐𝒓𝒍𝒅🌎 𝑰 𝒃𝒆𝒍𝒐𝒏𝒈 𝒕𝒐 𝒚𝒐𝒖 𝑺𝒉𝒓𝒊 𝑯𝒂𝒓𝒊

Nature lover,self analyst , evolving gradually ,found grace and love in Sri Hari Smile😊

Starving for knowledge and eager to transform my life to God's highest will.

A seeker in search of my own truth... a corporate slave struggling to break free . Sharing myself with the world through astrology, music and writing. Hoping to receive the grace of my master

Lucky go guy . Explorer of Life. Content & Curious. Obsessed with Comics. Ear for good story. Persistent day dreamer.

A writer (hopefully) and a finance worker. That's unlikely mixed, eh? I learn the lesson of life from you. https://vocal.media/authors/ria-rosewell

A lump of darkness who found the light in the form of the Guru 🌼🌼🌼

An unknown soul sitting by the mystical spiritual river, gazing in awe as each wave reveals priceless pearls of wisdom.

Author ,Photographer . Food Blogger . Pursuit of truth and beauty .

Under his GRACE a Householder & a Businessperson. (Teach and Counsel.) IIT BHU, Univ. Of Cincinnati.

Looking for the right words.