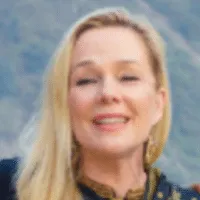 Chantal Om Espitalier-Noel's Followers
---
Who am I to question existence? I am a seeker and want to understand the minute to grand mechanical parts making this plane of existence possible.

Ek Nazar Dekha tujhe, Jaan liya maine mujhe, Teri Ek jhalak mein, Jaan liya maine mujhe! In one glance at you, I found myself, In one glimpse of you, I realized myself. All Glories to Swamiji alone🌼🌼🌼

On a journey from Somebody to Nobody. Love, Live, Laugh, Give. "They alone live who live for others" Swami Vivekananda.

A divine being leading a human life. However, I do not know my level of divinity (wink wink)

"I am learning to love, just starting to crawl."

Yoga helped me heal, tantra soaked the fear out of me bt it's in the lotus feet of swami i found relief. A practicicing yogi & a novice student of Kerala school of tantra . Sri Matre Namah

I'm a husband to a beautiful wife, father to 3 little kids, and a disciple of Om Swami. Like many of my guru brothers and sisters around the world, I'm in the process of lighting my lamp and am relishing the spiritual journey.

Just a young explorer in the world of spirituality.

To fill this actually I don't know who am I.. Lost soul under the shade of divine.

Is my bio enough to explain myself?

I am a work in progress. Trying to unlearn & learn at the same time. Lucky to be part of this existence & working on sharing that luck where possible. If that's confusing - you understand me well :).

Author ,Photographer . Food Blogger . Pursuit of truth and beauty .

A crazy cuckoo in love, singing glories of my Mother Divine; a teardrop at the pink lotus feet of my Master, a nobody, just a happy bundle of life, full of my Mother's joy who only wishes to spread loving kindness, smiles, hope and compassion around, truthfully treading the path that my Master lights in his playground. I am not a Bhakta, I am not a Gyani, I am not a worker for the Lord. These are only what I aspire to be blessed as. What am I then? A tool in the hands of my Master, a flute blown by the Divine Enchanter, a leaf driven by the breath of the Goddess - that's all the labels I would wish to identify with to introduce myself for the rest will fall off anyways.

Author of the bestseller, The Ancient Science of Vastu- I & II. A Ph.D. in Vedic Vastu and Geopathology. Follow me on insta@ drjayshreeom for genuine vastutips facebook:-https://www.facebook.com/jayshreeborad

Silence has all the answers .