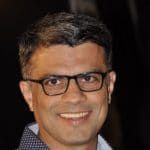 Hetal Sonpal
Hetal Sonpal is a accomplished business leader with 21+ years in the Tech industry. He advices and mentors startups, helping them on Sales Hetal is a "Mentor of Change" for Niti Ayog and mentors school children on Innovation programs. He is also a motivational speaker and loves to write on varied topics.
Gurugram, India
Joined Jun 2020
Hetal Sonpal's Followers
---
A seeker in search of my own truth... a corporate slave struggling to break free . Sharing myself with the world through astrology, music and writing. Hoping to receive the grace of my master

Speck of dust under Swami's holy lotus feet

Under his GRACE a Householder & a Businessperson. (Teach and Counsel.) IIT BHU, Univ. Of Cincinnati.

"The Power is inside every man, the different works are like Blows to bring them out, To cause these Giants to wake up"- Swami Vivekananda

Swami's scribe. I would like to imagine myself as a wordsmith tinkering in a workshop.

On a journey from Somebody to Nobody. Love, Live, Laugh, Give. "They alone live who live for others" Swami Vivekananda.

Spiritual Seeker understanding life, Soft Skills Trainer, NLP Practitioner,

Motivational Blogger. Inspiring the world through my writings.

I am a disciple of His Holiness Sri Om Swamiji Maharaj! Swamiji is my Spiritual Father and I am trying to become His able and good son! I earn my bread through teaching physics! I am a full professor of Physics at Indian Institute of Technology (IIT) Guwahati. Apart from teaching, I do and conduct scientific research in the area of quantum physics, specifically quantum optics. URL: https://www.iitg.ac.in/aksarma/

Did Higher Secondary Schooling at JUBBAL, Graduation at SOLAN and Post Graduation M.A.LL.B from H.P.U. SHIMLA.

I am a work in progress. Trying to unlearn & learn at the same time. Lucky to be part of this existence & working on sharing that luck where possible. If that's confusing - you understand me well :).

Ek Nazar Dekha tujhe, Jaan liya maine mujhe, Teri Ek jhalak mein, Jaan liya maine mujhe! In one glance at you, I found myself, In one glimpse of you, I realized myself. All Glories to Swamiji alone🌼🌼🌼

Starving for knowledge and eager to transform my life to God's highest will.