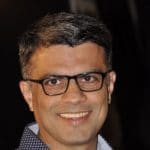 Hetal Sonpal
Hetal Sonpal is a accomplished business leader with 21+ years in the Tech industry. He advices and mentors startups, helping them on Sales Hetal is a "Mentor of Change" for Niti Ayog and mentors school children on Innovation programs. He is also a motivational speaker and loves to write on varied topics.
Gurugram, India
Joined Jun 2020
Hetal Sonpal's Followers
---
𝑺𝒊𝒎𝒑𝒍𝒆 𝑺𝒐𝒖𝒍 𝒊𝒏 𝑴𝒖𝒅𝒅𝒍𝒆𝒅 𝒘𝒐𝒓𝒍𝒅🌎 𝑰 𝒃𝒆𝒍𝒐𝒏𝒈 𝒕𝒐 𝒚𝒐𝒖 𝑺𝒉𝒓𝒊 𝑯𝒂𝒓𝒊

Forever a student in the school of life! Few favourite words:Love,faith, compassion, gratitude! Believe in and also try to follow, Live and let Live😊

Bridge player and software developer.

Rohinee Karmarkar-Sharma is living in immense gratitude. She finds running deeply meditative and is the president for life of the Good Coffee Equals Good Mood Equals Good Day club !

A seeker in search of my own truth... a corporate slave struggling to break free . Sharing myself with the world through astrology, music and writing. Hoping to receive the grace of my master

A journey from Somebody to Nobody. "They alone live who live for others" Swami Vivekananda.

हंसता मुस्कराता नूरानी चेहरा l लाखो में हसीन है मुर्शिद मेरा ll

Author ,Photographer . Food Blogger . Pursuit of truth and beauty .

🙏🕉❤️OM SWAMI OM SWAMI OM SWAMI ❤️🙏🌺🌺🌺

I am a student ( I mean it literally I am fourteen, but you may take it metaphorically if you like ;)) , a bibliophile , an ambivert and a devotee.

Who am I? Just yet unknown to myself. 💧👣😇 Rumi says - 'You are not a drop in the ocean. You are the entire ocean in a drop.' 🌊💧

"I am learning to love, just starting to crawl."

I am a disciple of His Holiness Sri Om Swami! Swamiji is my Spiritual Father and I am trying to become His able and good son!

I am a work in progress. Trying to unlearn & learn at the same time. Lucky to be part of this existence & working on sharing that luck where possible. If that's confusing - you understand me well :).

A lump of darkness who found the light in the form of the Guru 🌼🌼🌼

Subbu is who I am, Gurusharan is who I want to be. Right now it seems like a long arduous path, but who knows!!! If Grace allows, I might get there in the blink of an eye.