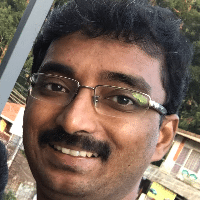 Rajesh Kumar Ragothaman
Jeweller and Astanga Yoga practitioner. A Shiv bakth. Every thought or act of ours should purify our mind or strengthen our body. That is only Dharma.
CHENNAI, India
Joined Jun 2020
Rajesh's Followers
---
On a journey from Somebody to Nobody. Love, Live, Laugh, Give. "They alone live who live for others" Swami Vivekananda. https://www.linkedin.com/in/trivediravi/

Spiritual Writer & Speaker.

Author ,Photographer . Food Blogger . Pursuit of truth and beauty .

Starting to write my story... The one that starts with peace and ends at peace

Dentist. A Seeker. An initiate of Sri Ramakrishna order. Blessed to be born in this ancient land of the Rishis and to have met Om Swami. To serve and to realize the Divine in everyone and everything.

Forever a student in the school of life! Few favourite words:Love,faith, compassion, gratitude! Believe in and also try to follow, Live and let Live😊

A bhakta & a disciple, in this life & forever.

Starving for knowledge and eager to transform my life to God's highest will.

In awe and gratitude for seeing, meeting and connecting with my Guru - my Master - my Prabhu : SRI OM SWAMI JI in this lifetime.

A B.Tech (EEE), M.S. (Bio Med Engg) from IIT Madras. Juggled career and family commitments according to life's situations. Starting to follow Swamiji's teachings.

I am a student ,a fifteen year old a girl with an extremely sweet tooth, a Baker at times, a bibliophile , an ambivert , a devotee and an aspiring scientist.

Author, Poet and a Psychology Student..