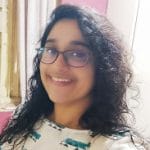 Rashmi Ramanathan
@rashmi-ramanathan
Forever a student in the school of life! Few favourite words:Love,faith, compassion, gratitude! Believe in and also try to follow, Live and let Live😊
Rashmi Ramanathan's Followers
---
Bridge player and software developer.

A tiny speck in the gigantic cosmos

A journey from Somebody to Nobody. "They alone live who live for others" Swami Vivekananda.

I am a 10 years old boy who wants to explore writing.

Happy to interact: peace.kindness.love.empathy@gmail.com

A traveller on a journey, on a discovery ... Apologies for not being able to reply to any comments for some time 🙏

हंसता मुस्कराता नूरानी चेहरा l लाखो में हसीन है मुर्शिद मेरा ll

I am a student ( I mean it literally I am fourteen, but you may take it metaphorically if you like ;)) , a bibliophile , an ambivert and a devotee.

Who am I? Just yet unknown to myself. 💧👣😇 Rumi says - 'You are not a drop in the ocean. You are the entire ocean in a drop.' 🌊💧

I prefer not to burden myself with labels and bios! 🙂

Pharmacist-Musician-Lyricist

A schoolgirl in the morning, blogger by noon, bibliophile by afternoon, craft lover by evening, guitarist by late evening, poet at night. She loves food so much that she eats it everyday. Lives life to just one mantra- Live. Laugh. Love. Give.

🐒 🐵 Part-time Buddhist. Part-time 3D artist. Part-time writer. Part-time philosopher. Part-time idiot. Full-time confused soul. 🙈🙉🙊 Om Mani Padme Hum 𑁍

I am an entrepreneur by chance and not by choice. I am an amateur astrologer and writer, and an avid traveller and now a seeker of moksha with the blessings of swamiji. My purpose is to leave the world better than I found it and be remembered by the people whose lives I touched as a force for good in their lives.

I'm a husband to a beautiful wife, father to 3 little kids, and a disciple of Om Swami. Like many of my guru brothers and sisters around the world, I'm in the process of lighting my lamp and am relishing the spiritual journey.

A seeker with lots of questions, sometimes exposed to rare moments of clarity!!