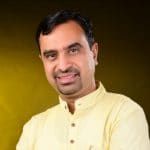 Subhash Iyer
Enjoying the precious gift of life through all that happens. Blessed indeed to have the umbrella of great Gurus.
Bangalore, India
Joined Oct 2019
Subhash's Followers
---
Bridge player and software developer.

On a journey from Somebody to Nobody. Love, Live, Laugh, Give. "They alone live who live for others" Swami Vivekananda. https://www.linkedin.com/in/trivediravi/

I'm a husband to a beautiful wife, father to 3 little kids, and a disciple of Om Swami. Like many of my guru brothers and sisters around the world, I'm in the process of lighting my lamp and am relishing the spiritual journey.

𝑺𝒊𝒎𝒑𝒍𝒆 𝑺𝒐𝒖𝒍 𝒊𝒏 𝑴𝒖𝒅𝒅𝒍𝒆𝒅 𝒘𝒐𝒓𝒍𝒅🌎 𝑰 𝒃𝒆𝒍𝒐𝒏𝒈 𝒕𝒐 𝒚𝒐𝒖 𝑺𝒉𝒓𝒊 𝑯𝒂𝒓𝒊

I take great pride and responsibility in being a disciple of one of the rarest being to grace this earth His Holiness Shrimaan Om Swami. His Name is my real identity and His color orche is colour of my soul. Om shree matrey namah.

Motivational Blogger. YouTube Content Creator. rishisridhar.com

Doctor and teacher by profession, seeker by heart.

I am just ordinary devotee of swamiji, haven't met him in live, just on YouTube and Zoom. Live in Osmanabad. Write fiction stories, true stories and like to listen to Om Swami and play Cricket. Hope all of you enjoy it.

I love writing humourous articles, and anecdotes.

Ek Nazar Dekha tujhe, Jaan liya maine mujhe, Teri Ek jhalak mein, Jaan liya maine mujhe! In one glance at you, I found myself, In one glimpse of you, I realized myself. All Glories to Swamiji alone🌼🌼🌼

Forever a student in the school of life! Few favourite words:Love,faith, compassion, gratitude! Believe in and also try to follow, Live and let Live😊

Did Higher Secondary Schooling at JUBBAL, Graduation at SOLAN and Post Graduation M.A.LL.B from H.P.U. SHIMLA.

Under his GRACE a Householder & a Businessperson. (Teach and Counsel.) IIT BHU, Univ. Of Cincinnati.