जय श्री हरि:
सरोवर का किनारा है
कन्हाई निकट ही एक वृक्ष के समीप बैठे हैं
चारो ओर से गायों और पक्षियों ने घेर रखा है
मोर श्याम को एकटक निहार रहे हैं
सब कुछ शांत है पर
अंदर एक उत्सुकता है
पता नहीं कब श्याम वंशी को मुख में लगाएँगे
पता नहीं श्याम कब हमारी ओर देखेंगे
चन्द्रमा उदित हो रहा है
पर चाँदनी का रंग कुछ अलग है
नीलवर्ण शयमसुन्दर की आभा है
चारो तरफ एक शीतल तरंग है
श्याम की आँखें सच में कमल के समान हैं
और उनकी मुस्कान ने सबको स्तब्ध किया हुआ है
जैसे योगी का ध्यान उसकी श्वास पर है
हम सब का ध्यान कन्हाई पर है
पता नहीं समय कब बीता
पता नहीं श्याम ने बंसी बजायी भी या नहीं
उनके चरणों को देखकर
उनके शीर्ष पर मयूर पंख को देखकर
मन में एक ही प्रश्न रह गया
क्या मेरे श्यामसुंदर से भी
अधिक और कोई सुन्दर है?
क्या इनके चरणों से बड़ा
और कोई दूसरा आश्रय है?
क्या इनके नेत्रों से अधिक कोई
और मोहित कर सकता है?
शीघ्र ही कोलाहल हुआ
और आँख खुल गयी
मंदिर में जयकारे का शोर हुआ
और फिर एक बार 'अमित' उनसे दूर हुआ
यह 'अमित' की एक काल्पनिक रचना है। आशा करता हूँ आपको मेरी यह त्रुटिपूर्ण कविता अच्छी लगी हो ।
Related Q&A
Lord Shiva is easily pleased! What's your experience?
Jai Shri Hari!
Lord Shiva is called Bholenath, the one who is easily pleased!
Is it true that he is that easily pleased than Lord Vishnu?
(I believe in both of them as the same divine - HariHar!)
What's your experience with lord Shiva?
Thank you in advance.
Om Namah Shivaya!
Har Har Mahadev!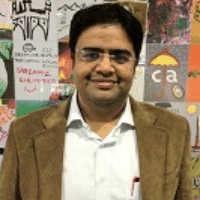 AkshayOm
replied 2mo ago
Jai Sri Hari bhai. You can never worship Mahadev thinking he is easily pleased. It's the same Mahadev who moved his toe to crush Ravana under a mountain and yet melted when he sung Shiva Tandava Stotram. It's the same Mahadev who pulled out one hair to create Bhairava and yet wept in agony for Sati. You can only love him because he wants you to. The eternal Yogi, the first guru, the king with no crown. Only his love can tell you the meaning of love. 
What is the most beautiful emotion/feeling you have for Bhagwan?
Well, we all love Bhagwan so much, so in order to express your love for Bhagwan. What is your favourite bhav(emotion or feeling) that connects you with Bhagwan instantly? 
Jai Sri Hari 🙏
Sri H
replied 3w ago
Jai Shri Hari!
The only emotion that connects me to Bhagwan instantly is Loneliness.
Because I am never alone, Mahadev is always with me. I can feel it. I can experience it every moment when I think I am lonely.
He is always with me and I have faith that he will forever be with me.
Thank you.
Har Har Mahadev!
What is the most beautiful virtue of Bhagwan, you have recently imbibed/ thinking about ?
When I was child, I read somewhere that to love Bhagwan is to imbibe his values that he stands for in your being.. is the most beautiful way of loving God. Here, we all love Bhagwan dearly, have you imbibed or thinking to imbibe one of the virtue of Bhagwan in your being. What is that single most virtue close to your heart? Do share yourself. 
Anu D
replied 2w ago
Being fit, attractive and always smiling😉😉❤️❤️
What is your transcendental experience with divine?
Sometimes, we experience Divine in most simple moments of life. Have you ever felt such a state of consciousness where you feel oneness with Bhagwan. How Bhagwan makes his presence feel in your life. Eager to feel the bliss of your experience with the divine. What are your those divine transcendental moments in life that is close to your heart?😊
Anu D
replied 7d ago
When I dance in love! ❤️❤️
How can you see the divine in inanimate things?
Have you ever felt a feeling of love and oneness with inanimate things like wall or a chair as you may feel for trees and river? How can this feeling be developed?
Neelam Om
replied 4w ago
Hello Kirtee,
It's a journey before you reach this state of consciousness you will see massive transformation in one's consciousness. I believe it's not a one moment when you start to feel love for all animate and inanimate beings or see divine in all things. Keep walking and see how it unfolds, if it is to. It's only with grace that one can be blessed with such state.
Jai Sri Hari 🙏
AUTHOR DETAILS
Giri River, Green Mountains, Kaccha Road & PEACE!
Long road ahead....
---