So I ran the Bangalore Marathon last weekend. While it was my 13th overall, but first one in Bangalore. And debut run in beautiful city of Namma Bengaluru, did not go as per plan. While a sub4 was difficult from the start (as per my coach and I had not practiced well enough for it) but I was hoping that I would end somewhere close to my pb (personal best) of 4:11. But I ended way off mark of that with a timing of 4:29.
So what happened? I was going really well with timing of 57mins for first 10k, 2:04 for 21k and a really impressive 3:04 for 31k. But I ended up taking all of 1:25 for the last 11k. Well, as there are not many seasoned runners in this group (at least among those who write and comment on my post), I will avoid more details. The bottomline- I did not have a good run.
I was self ruminating after the run and dear friend and a fellow runner messaged stating that he was happy to see me finish the marathon, but was surprised by the timing. He asked me what happened? It made me think, is it necessary to expect every time to be a great run?
Isn't that similar to expecting Sachin Tendulkar (the GOD of cricket) to score century every time he comes in to bat?
Is it any way different from expecting our child to do well (maybe even top the class) for every test in every subject in every grade, every year?
Or is it not same as when we go to our favourite restaurant and get lip-smacking finger licking food every time?
Or is it not similar to expecting Hetal to come with awe-inspiring and motivating content in every post of his?
How is it different from us expecting hundreds of views, thousands of likes and tens of comments (at least) to our every post on each platform, ALL THE TIME?
Well, since all the other situations are unrealistic, so is my expectation to do well in every race. 
Wouldn't life get very boring, if we do consistently well and improve on our record every-time? 
Many might remember the phase of dominance by the West Indies team in cricket, followed by the mighty Aussies. Now we are in a phase where, on a given day in a specific format, anyone can win the match. Isn't that more exciting?
Not because I am a Federer fan, but I love upsets and hope an underdog player every-time to beat Nadal in the French Open and Djokovic in all tournaments. I have nothing against either of them, but I would rather have a more level playing field.
Now while I have talked about the bane of expectations, I have also talked about a level playing field, which is good for the game and good for the individuals as well. Even a Nadal and Djokovic, any-day, would prefer a fair, competitive game rather than someone giving in easily. And boy, do they really hate when they get a walkover or the opponent is injured during the game – they actually feel that they were denied a more righteous win.
The other major problem with expectations is that it ceases to be 'fun activity'. Yes, many of you might not be able to understand how running 42.2kms over four and a half hours can be fun in the first place. Even if one finishes it in 4 hours with a smile at the end. I honestly felt that the run was fun while the going was good. However, at the 34km mark, when I was sure of missing the sub4 mark and even getting a new pb looked unlikely, the race became a bit a drag after that. I was like – let's just get done with it. But funnily enough (and its happened the first time), I was very emotional at the end and actually cried for a few minutes. Just realising that the effort, the practice runs, the anxious moments all the way, had finally ended and I can get back to normal, humdrum (read boring) life!
But typically, disappointments with ourself is directly related to the effort spent behind the activity. If I had not practiced well and did not get a good timing, I might not have felt so sad.
Less Effort – More Results – LUCK
More Effort – Less Results – Fate
Equal Effort – Equal Result – Destiny.
Rather than feeling dejected when we do not get results proportionate to efforts, its fair to blame it on luck (remember, there is also a bad luck 😉 ) rather the rueing our 'fate'. 
I always believe that happiness is in the journey and in the destination. If I was just seeing the finish time as source of happiness, then its just a fleeting moment when I touch the finish line and maybe for a while after that. But if I consider the entire stretch of 42.2kms as 'pure happiness and bliss' then I earned 4hours+ of joy. And yes, there is a mystical fun in waking up at 2:30am, reaching start point at 3:30am for the 4am start. And after the finish, enjoy that 20-30 mins long shower, have a sumptuous breakfast to make up for the 3000 odd calories burnt and finally top it all with a nice massage later in the day. What more is needed to be 'happy'?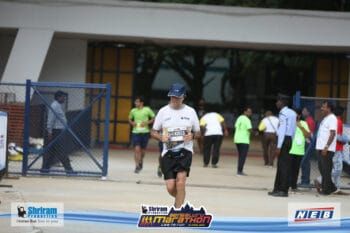 In summary, look at every activity with happiness being 'doing the act' rather than 'finishing strong'. Look at the finer elements and work on those, rather than just be laser focused on ending it all right. The long journey and experience of 'going through' an act far out-weights the momentary high of finishing something. Especially when the position or rank does not matter, and all you need are passing marks, then do not take up too much pressure. 
Have a fabulous weekend and greetings to all who are celebrating string of festivals.
---