For the last 10 years, the one thing that I have been most consistent with is working out. It started with a passion for parkour that changed my life forever. I once saw an athlete do a backflip. The move was so spectacular that I made it my goal to be able to do it too.
I started with some basic moves. The progress was quick. Along with my competence in parkour grew my love for fitness. I had to be fit to be able to continue doing parkour. So I added running and stretching to my daily routine.
About 8 months of persistence and daily practice later, I was finally able to do a backflip.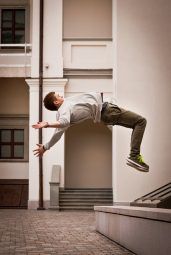 Image by Rolanas Valionis from Pixabay
Parallel to practicing parkour, was my consistent daily workout. At some point, taking good care of my body became a top priority. Also, parkour started leading to injuries over time. Some injuries came to my notice only after a few months, when they started causing intense pain in my lower back.
My interest in parkour organically decayed. I eventually stopped practicing it. But working out never discontinued. The program was installed deep in my psyche.
For many years since I started in 2011, I consistently did running and stretching. At the same time, it never turned into an obsession. The regime has always remained simple and not consuming too much of my time.
I do prioritise health and along with it, I value time and effort too. I believe we should workout to take care of health not to become Hulk-like-hunks. Taking care of your health takes less than 30 minutes a day, doesn't require going to gym, lifting heavy weights and consuming 100g of protein. It can be simple and easy.
There are a few problems with going to the gym. One is resistance. When you wake up in the morning, often you don't feel like working out. Now, if you are to go the gym, that adds resistance to the process. You have to get ready and walk/run/drive to the gym. That's extra resistance.
On the other hand, doing home workouts cuts down on resistance. Even if you don't feel like working out, you just get on the mat and start doing some light exercises. In a few minutes, your mood starts to lift up, momentum builds and you end up doing your routine.
Intense workouts and gyming are also more difficult to sustain in the long term. But if you keep it light and simple (and fun), you can continue for an entire lifetime. Which is probably why I have been able to stay consistent for around 10 years now.
For many years, I mostly did running, stretching and some yoga. But then I realised the importance of having strength for overall health. Slowly I shifted from cardiovascular to strength training.
For the last two years or so, my workout regime is simple – 125 pushups/squats a day. Three days a week I do 125 pushups in sets of 35-35-30-25. On the alternate days, I do 125 squats broken down into sets the same way as earlier. On Sundays, I rest. That comes down to around 20000 pushups/squats in a year.
With this simple routine I have stayed fit and grown into a decently muscular frame over the last two years. The interesting part of the story is that for around 7 months, I did this workout in a small bathroom of 7 feet by 4 feet.
When the pandemic was on rise, as a safety measure, our residential society banned access to the building terrace. Which is where I used to workout. That meant I no longer had a place to workout. I couldn't workout in my room. So I chose the small bathroom space to do my workouts.
Now you may see why I believe this simple routine is sustainable long term. I guess many people would have stopped working out during the pandemic when the gyms closed down. However, taking care of one's health should be a more robust system; at least not dependent on access to a gym.
That's what I believe.
May this post inspire you to have a simple and consistent workout regime, which keeps you fit, healthy and happy.
Stay well.
Featured Image by StockSnap from Pixabay
---