Disclaimer: I have taken some help from papa for some special words to express my feelings in English.
Love ya Swamiji. I like your round chandan bindi, it is a full circle resembling the sun! Your smiling face is like the cool moon light's reflection. I like your videos and your Aussie English accent. (I love Australia and New Zealand.) It is a little difficult to understand your pure Hindi, so I am switching on the subtitles for ease of understanding😉. I am reading the Famous Five series by Enid Blyton. I am madly in love with it and my English vocabulary is also getting rich, is that not cool?
Do you know, today is my first double digit birthday. I am 10 today Swamiji! I have cleared the preliminary grade exam for the keyboard from Trinity College, London with distinction (93%). My only flaw was I was a bit on hurry while switching between pieces. I will try to improve and one day I will play you piano, of course, with your permission 😊. On this occasion, I want to offer you the following keyboard piece (English Country Garden, traditional)
Now, about my birthday celebration today. It was a very special birthday, as I spent it celebrating with special children. We planned to do something special on the occasion of my birthday. "Apne liye toh sab karte hain, par doosron ke liye karna aapne sikhaya Swamiji" (I am partly inspired by the movie 'Bawarchi' starring Rajesh Khanna, to write down this Hindi dialogue).
When my friends asked me where the birthday bash is, (is it wonder la or Jal vihar or Ramoji Film City or any other fascinating location?, theme Party?) I replied, "in a school where there are special children."Most of them could not make out, but you all know what I mean, right! High five 🖐️ for those who understood and if any tube light type guys who could not understand, please wait for some time!
Papa requested for withdrawal of Rs. 7000 earned through Os.me blog writing and the team was very quick to send him the money. Thank you Os.me team 🙏 . With that money, we went to shop for celebration items. Our target: A very special school with autistic children whom I will address as special children hereafter.
We purchased special jumbo crayons, pencils, sharpeners, erasers, drawing books, building blocks packed in transparent car type toys and soft toys such as teddies and giraffes for 8 special children. Last night, Mummy ordered special sugar free and eggless cakes as per the school's dietician's advice for the special children. Papa brought and kept it in the refrigerator. Papa also brought Lays, Doritos (chips) for them.
Actually, my mid-term exams are going on. Initially, our exam schedule was from 11:30 to 12:30. We were a bit worried as the children's school would be over by that time and they would go home. But, Swamiji understood our problem and suddenly from Monday, the exam schedule got changed to now being from 8:30 to 9:30. But, the problem was far from over. As you all might be knowing, due to the cyclone Gulab, there were heavy rains in Hyderabad on Monday (really very heavy) and IMD issued Red Alert uptil today. But again Swamiji smiled and with him, the sun started smiling and shining this morning. (Fun Fact: When Swamiji's grace is there, don't worry for works of welfare!)
Papa took half day leave along with mummy. I finished my Maths exam in a whisker and we set out for the school. Actually, my ABACUS Teacher, is the Administrative Head of the Charitable Therapy Centre-cum-school. She greeted us and she was very happy that we chose this way of celebration for my birthday.
For the first time in my life, I saw the special children. Yes, they are like us. They are also children of God. Only thing is they need more care, love and compassion, because they are very sensitive. A boy, aged 3 was not able to talk. Another was having problem in writing numbers at the age of 7. A boy of 5 years age was having problem in hand-eye co-ordination. A cute girl of five years old was very happy to see the gifts we brought. All of them were very excited to see the cake on which it was written 'share your joy'. We all cut the cake together. The ayamma helped in putting the cake pieces and chips on plates.
Meanwhile, I presented the gifts to the special children one by one and the smile on their face was indescribable (symbol). The car with building blocks was a run away hit! Then, I offered the plate of food to each and every child including the teachers and the ayamma. They were very happy and hugged me. One boy was interested in my watch. He kept on looking it as if it was an amazing thing. I was surprised and understood how I was taking things for granted, yet there are kids who are not that much priviliaged. I will not brake my head for samosa and maaza anymore ;).
Overall, it was a good experience mixed with emotion, the joy of giving, gratitude to God for what I am and have, also understanding the social responsibility of we normal human for these special humans. My ABACUS teacher also inspired me to continue these types of activities for the well being and enhancement of these children.
Swamiji, please give me some of your special energy to do something for these special children of god. I will visit you to seek the power and blessings, aap denge na!
Jai Shri Hari!!!
Some random pics of my special birthday celebration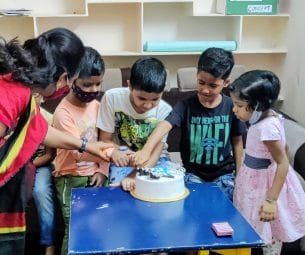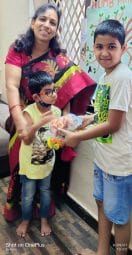 ---