On the last day of Teacher Training Course, Netala (It was a 30 day yoga course away from home in the ashram) one of my roommates gave me a handmade card. I kept it in my handbag and decided to write a blog post about it as soon as I reached home. I was registered for the next course, which was to start after 5-6 days. As I had some free days so I decided to go for trekking to Dayara Bugyal and Gaumukh. I divided my belongings in two parts. One I took with me and the other I left in the ashram. After I returned to the ashram, I became busy with the tight schedule of studying, practicing yoga and doing sadhana. On the completion of course, when I returned home, I unpacked my things but could not find that lovely card. I searched my notes, clothes and other belongings thoroughly. I even searched different pockets of my bag but could not locate it. I clearly remembered that I did not throw that card but safely placed in my bag. Even on repeated searching of my belongings, I could not find it. At last, I dropped the idea and thought that it might have unconsciously lost somewhere in the journey.
Today, I finished Samadhi Yoga by Swami Sivananda. I placed that book in my book self and took out another book for reading. As I opened it, to my surprise I found that card lying in between page no. 28 and 29. How it reached there, is still a mystery for me! But I was happy that I found that beautiful card and now I could write about it.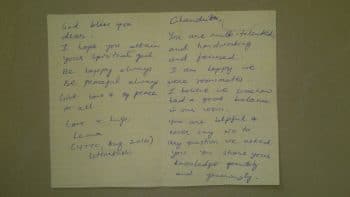 Swami Sivananda's sayings were creatively scribbled on the front on a pale yellow coloured. Inside, a heartfelt message was written. She didn't hesitate a bit to praise me generously. Although I did not deserve all those admirations as she had mentioned but it was really very kind of her to express gratitude so lovingly.
I thanked her sincerely.
It wasn't a card but a warm hug folded in it!
for #TheWriteChoice 
---