Thirty three years ago, I decided to grace this planet. Why? Right now, I have no answer to that question, but maybe sometime in future when I am enlightened, I will. Yes, I dare to dream of the highest possibility, knowing that anything is possible by my Master's Grace. 😇
As of now, I am just happy with the fact that the river of life has deposited this tiny sand particle at the lotus feet of my beloved master, my Swami!🙏
I am elated because of the gift I received on this birthday from a very special person. Yes that's me, myself and.😊 It was completely unplanned though and the first time in all these years that I actually gave myself a proper gift, packed with no wrapping paper but lots of love. Feels wonderful, I swear! Do try it to feel the high.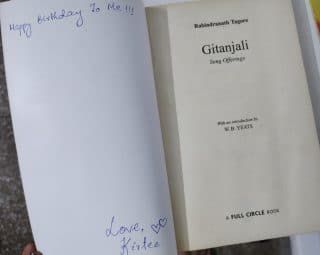 So, here goes the story of how this surprise gift came from myself to me!
When I sat down for my evening meditation day before yesterday, my mind started running amok like a wild elephant. Despite my best efforts to persist, I just couldn't. So, I got up and went for a long walk with the intention of being by myself and figuring out ways to bring my worn out being to its peaceful and joyous self.
I perched myself on a rock on the banks of the Ganges surrounded by mountains. Within a few minutes, it was as if the river had transferred it's own quality of coolness, and flowed from moment to moment to my mind. Putting into words how I felt in the moment is next to impossible. Being in the lap of nature heals like none other. It has a powerful way of absorbing the mind, relieving it of all worries. All I can say is that tranquility took over!
Soon, the sound of temple bells and incense came floating in the air and lights twinkled in the mountains making it difficult to guess whether they were houses, vehicles or stars. Paying my obeisance to Maa Ganga, I headed back home.
On my way, I was drawn to a bookshop which I had crossed multiple times in the past one month, but had never stopped to look at the collection. My eyes fell on a book that I had been pining for more than 2 years but never found a physical copy of. Gitanjali by Rabindranath Tagore! I had already read it on the internet and became a diehard fan ever since, actually an ardent devotee or worshipper would be a more apt term for my intense pull towards this great sage.
I find it strange though that during my period of living for over 2 years in Kolkata, I had never felt any inclination towards Rabindranath Tagore. To be honest, I had thought him as a boring old man after listening to the monotonous Rabindra Sangeet playing over and over of which I understood little.
What piqued my curiosity was the Netflix series 'Stories by Rabindranath Tagore'! I was blown away by His revolutionary spirit, sensitivity to the feminine and the bold. I adored him and revered Him not just as a writer, but as a true saint. As soon as I had finished watching the series, I searched for Gitanjali and read it in one go. What happened next was a relationship built for lifetime. He carved a permanent place for Himself in my heart's altar.
Even decades after leaving his body, he is an enigmatic living presence whose words melt the heart and leave the soul yearning for the divine union with the beloved. I wasn't satisfied with the ebook and wanted the hardcopy but couldn't find it online.
When Swamiji recited from Gitanjali this Guru Purnima, a wave of joy rushed through my being. The sentiments and Swamiji's sonorous voice echoing in every pore. Surreal!
Now, here I was standing in disbelief, gazing at Gitanjali with Tagore's photo on the cover. It took me a couple of minutes to come out of my transfixed state and step inside to ask the shopkeeper a number of questions (like whether it is in English, it has the full contents or not,etc) just to confirm that what I had wished for was truly in front of my eyes now. The price was just Rs.95 (funny that I neither had that amount with me nor my phone to make an online payment. I am a light traveller, you see!😛)
I requested the shopkeeper to keep my book securely, promising I would buy it the next day. By the next evening, it was mine, my prized possession.
My precious gift to myself, or was it a gift from Mr.Tagore himself for his silly fan on her birthday ?
Doesn't matter, I am so happy with the gift itself that I feel like a child. Just as a child keeps dragging her favourite teddy around, I think of keeping this book always by my side and dream of carrying it wherever I go, reading it on trains and cafes and all that exotic imagination… You get the picture in my head already, right?😊
I am deeply grateful to the universe for this precious gift. However as is the wont of humans, some desire always remains lurking round the corner. With respect to Gitanjali, I still have a pending one. I can understand Bengali well though I can't read it. I am one of those persons who is in love with vernacular literature for their capacity to establish that earthly connection and evoke emotions, which is somewhat lost in translation. So, my next wish is for the original Gitanjali in Bengali, either written in English or on audible.
Dear Rabindra Da, I am waiting patiently like a good girl for this gift from you someday…🙂
How can a fool like me dare write about the great Rabindranath Tagore, it is like showing a lamp to the sun. So, let me end with one of my favourite poems from Gitanjali that stirs my soul and fills my heart with silence.
If thou speakest not I will fill my heart with thy silence and endure it.

I will keep still and wait like the night with starry vigil

and its head bent low with patience.

The morning will surely come, the darkness will vanish,

and thy voice pour down in golden streams breaking through the sky.

Then thy words will take wing in songs from every one of my birds' nests,

and thy melodies will break forth in flowers in all my forest groves.
I have been wanting to, but not been able to write of late because of a disturbed mind. Thank you Swamiji for flowing through me today and helping me to successfully complete this piece. I offer myself at Your Lotus Feet!
P.S: Did you notice the little logo on the left bottom of the book's cover in the featured image? Full Circle!
---