The study desk in that plain looking room was a mute witness to the rich inner life of its quiet companion. This companion was a 25- year -old man: Often quiet, his demeanor suggestive of deep compassion that concealed the warrior like courage, a pair of striking eyes which could see the things which none but only his mighty soul could fathom. Like every other human being walking on this Earth; he was also born with his unique set of gifts, and his life was to be an exploration of these gifts through  a series of choices, failures, heartbreaks and realizations. Alas! Kabir was trapped in the limited version of his life and what he could achieve.  He imposed as many limitations on himself as others did on him.
Undoubtedly, what was left of Kabir was a mere shadow which the world took no note of.  The circumstances of his life kept uprooting him, scattering him everywhere and shattering him in the process. The twenty five years of his existence on the Earth were enough to breed the feeling of victim hood in him.  The voices of victim hood, injustices and anger did raise their heads from time to time but Kabir could always quash these stubborn demons without even knowing himself that he was doing it. Ironically, his own light was hidden from him. Kabir knew that his heart bled for his fellow human beings whose sufferings knew no end yet he often found himself in the grip of an inexplicable rage at how humans were scripting their own tragedies.
Kabir's life hung between these two poles of emotions in his being. How could the outside world see the edge of the sword Kabir had to walk on day after day and year after year?  He could see the traps of the mundane existence:  the false sense of security offered by a few currency notes and an overriding notion that money can be trusted with happiness and peace. Kabir was becoming gloomy and felt depleted of energy to carry through the routine tasks. The more he went out into the world, the less he could identify with the pool of the people flooding his space.
In such moments, he turned to the comfort offered by his study desk covered with friendly looking books and heaps of blank pages willing to bear the burden of his lofty ideas. A small window next to his study desk was his access point to the bounty of nature. A glass of water stood firmly on his study desk waiting to be gulped down. Sitting at that study desk, night after night, he had filled pages with his reflections on life, love, wars, sufferings, peace, happiness, human predicament and a dozen philosophical musings his thoughts carried to him from distant lands and familiar shores.
 That night when Kabir sat at his study desk, he sat with a gentle air of detachment. Kabir could no more dismiss the resolute voice within him which would not allow him to settle for a life of mediocrity. A life which could merely offer – three-meals-a day-with -a- wife-he-believed-he-loved-and- went-on-vacations-with-and -sudden-deaths-and-planned- births held no promise for him.
 A decision and a higher calling had come to Kabir. Did he have any choice but to commit to the life he was meant to live?  How could he not take the inner journey and discover the gifts he was born to explore and share with the mankind?
He could not bear to walk on the Earth as his mere shadow.
Kabir was finally ready to embrace his greatness. That night, Kabir sat at his study desk and wrote his resignation letter. He was ready to assume a new and a bigger responsibility.
Was Kabir not afraid? He was terrified. He had to wage a battle against the multi-headed demon of fear.
Did those currency notes which came with the job he held not accused him of craziness?  They screamed at him. He was not the one to relent.
It took Kabir twenty five years to take the first step towards his destiny.
  He felt lost as he could not see any path laid out for him. He felt overwhelmed by uncertainty that accompanied his decision. But he had set off on a journey of self discovery and was determined to find his path.  Amid the confusion and chaos, he knew that his vision for his life would illuminate his path.
 A day would come, when lying on the grass in an apple orchard, Kabir would think of how he made a difference to the world around him. The smiles he spread, the wounds he healed, the minds he illuminated, the courage he instilled , and the lives he sculpted; the fond memories of his contribution to the mankind would warm his heart.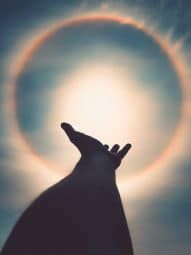 ---