"I want to go to The Padmanabha Swamy Temple"
"Take a cab and go," my husband replied.
I couldn't believe my ears so I repeated once again and got the same answer. Normally in our patriarchal household women are not allowed to go out alone. This is followed strictly whenever we are at our native place.
We were on a short trip to our native place for a wedding in the family. I was excited to take a day for myself, away from the hectic activities and family gatherings. I decided to go to The Sree Padmanabha Temple. My longing was too much, nothing could have stopped me from visiting the temple.
Sree Padmanabha Swamy Temple is one of the 108 Divya Desams and is located in the capital city of Kerala, Thiruvananthapuram. The great Travancore king, Sri Marthanda Varma Maharaja, dedicated the Kingdom to Sree Padmanabha Swamy in December 1749 and adopted the title of 'Padmanabhada' ( The servant of Padmanabha ). The capital city is known as Thiru Anantha Puram meaning the city of Lord Anantha. The gopuram of the temple is embellished in gold and it is such a beauty to behold even from a distance.
I got ready in a jiffy and skipped breakfast. I was not hungry. I was too excited for the darshan. I wanted to get inside the cab before my hubby changed his mind and stopped me from going alone. I avoided the stern glances from my MIL and acted as if I didn't hear the comment from my elder brother-in-law about the dangers of a woman traveling alone. I don't blame them completely. Despite all claims of progress, a woman is still not safe on our roads. There is no smoke without a fire. And there is fear in the heart of a woman who travels alone. The only option is to face the fear.
Soon I was sitting in my Uber auto and on my way to see one of the most ancient and richest temples in the world. I was excited to witness Sree Anantha Padmanabha, reclining and relaxing on Anantha in all His Grace and exuding Bliss.
The roads were desolate because of lockdown restrictions. I started getting a little worried. A beautiful highway stretched to Kanyakumari above a flyover. I longed to go on a drive on the long broad highway up to Kanyakumari. A curious biker slowed and peered down from the flyover. I became conscious and a little panicky. The best thing to beat fear and anxiety is to start a conversation.
"What is the temple dress code for women?" I tried to befriend the driver with some conversation.
"So long as you are wearing a saree, it is fine,"He said.
There is a dress code to be followed at The Sree Padmanabha Swamy Temple.
The dress code for men is Dhotis and agavastram and that they should not cover their heads.
Women can wear sarees, set-mundu, wrap a dhoti above their pants,pavadas (traditional skirts), and blouse and other coverings appropriate for their age. Dhotis are available for visitors on rent at the entrance of the temple.
My dress code was right and appropriate for the temple visit. I relaxed a bit more and started a conversation with the auto driver. I told him I would love to take some pictures of the nearby places. He said for taking pictures Shanghumukham beach is good and there is an interesting installation of a mermaid there. We decided to stop there and take a few snaps on the way. I re-routed my destination to Shanghumukham beach. It was unplanned and such a big joy for me. It was as if Swamy knew how much I loved beaches.
We soon stopped at the entrance of The Shangumugham Beach. There was this beautiful single stone sculpture of a mermaid called Jalakanya. I took a few pictures of the mermaid.No one was around and I wasn't relaxed either. Only the sprawling sculptured beauty looked up at the sky in a meditative posture.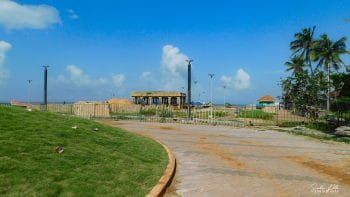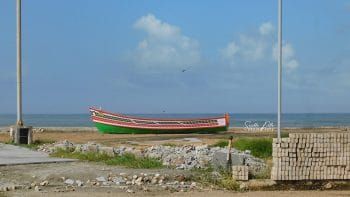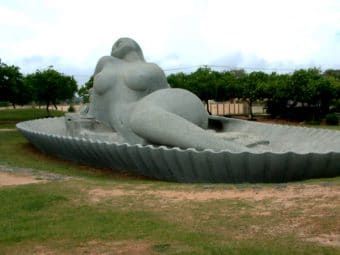 The visit to the beach was banned. I could only see it from a distance. A beautiful granite pillared Royal Arattu Mandapam stood facing the beach. This mandapam is used for the 'Arattu', the royal bath of Sree Padmanabha Swamy.
From there we reached the temple. After depositing all my electronic possessions at the small depository at the entrance and going through the security gate, I stepped inside the temple. As I placed my feet on the beautiful granite stones my mind whispered, "Be mindful." A light breeze blew from the ancient Mandapam. There were only a few devotees. The Darshan was blissful and calm. I stepped out of the temple, happy and overwhelmed and already making plans for my next visit.
Jai Sri Hari.
Mermaid Image Courtsey www.nativeplanet.
---