Sri Narayan Lal Shrestha
(18 Jan1935- 4 April 2021)
I made a phone call to his place and there was a female voice on the other side- "He is no more, he passed away three months ago."
I kept the phone back, there was nothing more to talk about, It was very unexpected for me, I felt like crying and left behind at the moment. The Saintly person who showed unconditional compassion, acceptance, and guidance when I was going through the worst phase of my life,  was no more in this world.
He was very old, was losing his ability to hear, and had a hard time walking but he made me feel like  I could still go to his place and meet him and talk to him and feel the immense peace hidden behind his humble gesture. At least, I wanted to meet him in his last days but it was not written in the book of fate it seemed.
He was a Supreme Kriya Yogi. A great devotee of Sri Paramhansa Yogananda was a  "Grihastha" (householder) and led a simple life away from publicity. He was the head of a meditation group. He organized weekly meditation retreats to Kriya Yogis and all those interested in meditation at his house without any cost. He meditated for prolonged hours every day. He was a rare serious seeker and his time was very precious but he was always welcoming to people. People used to come to him for their spiritual quench and people also called him seeking guidance on their personal problems.
I first met him in 2004( not sure about the exact date), I was very young, anxious, angry, sick, and had a lot of complaints about life. Whenever I felt overwhelmed by any situation I would go to his place asking questions. Sometimes when I got sick I would run to his home instead of going to the doctor. He always welcomed me with compassion. I don't know which karma has drawn me towards such a spiritually evolved person. Sometimes he would answer our questions even without asking them.
I once inquired, "How do you read our mind?"
"When there is no duality, your thoughts and mine are the same"- He answered.
Often he would say- "I will pray for you, don't worry" and his prayers always worked.
It seemed that he had a direct phone connection with God.
He would answer my numerous questions calmly. One day when I was feeling devastated he said-" You are Durga, Sita, Draupadi.., what are you scared of  ?".Although I didn't take a Kriya Yoga ' Diksha ' (initiation) but his presence had a great impact on my life and my attitude towards life, I was a different person than before. I still don't have enough words to thank him or God for his presence in my life.
In his last years of life, he wrote " Bhagavad Gita" in the Newari (the ethnic language of Nepal)language. He said when he was young by Divine Mother's grace,  the verses of Bhagavad Gita came out spontaneously from his mouth in Newari when he wanted to recite Gita for his father in his mother tongue.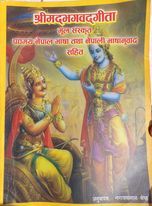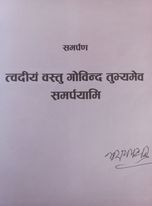 I didn't know, but it was my last meeting with him. In October 2019, I was planning to go abroad, I went to his house for his blessings. I listened to his teachings. I wanted to talk to him. He was unable to hear clearly, so he gave me a notebook and a pen. I looked inside the notebook, there were people's requests for prayers for their problems. I wrote- " I am indebted to you, how can I pay you back, out of my ignorance I have disturbed you a lot "
"No worries, It was the divine mother's desire "- He said indifferently.
Again I wrote-"Please don't stop looking after me, keep on showering your blessings even if you are not in this physical body"
---