Jain Temple at Tijara, Alwar, is a group of three temples. In the featured pic one can see the idol of Chandraprabha. The beautiful stairs make this view breathtaking! This temple is so peaceful and serene that one feels like sitting in the lap of the nature. In the premises of the temple a large lawn with attractive flowers and trees is also there to attract butterflies as well as tourists. 
The main temple has a huge idol in a hall with sitting arrangement for many persons who can do prayers simultaneously. The brass bell at the entrance produces a loud dong. There is a small hall where children can enjoy the moving puppets depicting stories from mythology. Outside the temple one can purchase grocery at cheaper rates and of very good quality. On cooking, unpolished dals, chickpea, pickles, papads and badi tastes superb.
The third temple is at far off place in the interior of village Tijara which is connected to the main temple by pedestrian fly over. There are lots of paintings describing about the Jain philosophy of life. It is a good place to visit if one has a few hours and want to go for outing near Delhi and NCR.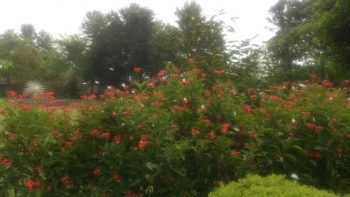 Did you notice butterflies in the pic?
For #TheWriteChoice
---