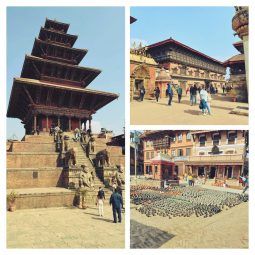 From left Nyatapola temple, 55 Windows Palace & Pottery Square.
Bhaktapur is an old and historically rich city right next to Kathmandu. When people think of visiting Nepal I don't think a lot of people plan to go to Bhaktapur.
It was an impulsive plan for us, as we drove for 40 minutes and reached the beautiful city of Bhaktapur, luckily there wasn't any traffic. This wasn't my first time visiting Bhaktapur but every time I see that beautifully crafted architecture and carvings I get as mesmerized as it was my first time seeing it.
One of  Its main attractions there was  Nyatapola Temple. It is a five-story  Ancient temple that has survived four major earthquakes. It is dedicated to tantric deity Siddha  Lakshmi (Parvati) and was built in 1701-1702 AD by Newari ( An ethnic group in Nepal) King Bhupatindra  Malla.
The City, its Architecture, the stone-paved street, the people in traditional clothing made me feel that the city is still back in time. Another attraction was fifty–five windows Palace. It has beautifully crafted wooden windows, locally famous as " Pachpann Jhyale Durbar "  that palace is a masterpiece of wooden architecture. Sadly, we couldn't get in as it was closed due to Covid.
Besides its Architecture, Bhaktapur is also famous for   " Juju Dhau"  which translates to king of curds. It is made and served in clay pots. We decided to get a small clay-pot of Jujudhau for each of us. It definitely tasted like the king of curds.
Our final destination was  Pottery Square. This place is famous for traditionally made clay pots and crafts. One can enjoy trying making some clay pots in some shops, also but we decided not to, on this trip.
The trip was beautiful, made me feel happy that the city has still maintained its ancient beauty and traditions.
---