Many people on this platform are familiar with the title and know my book, which was released last year, Against All Odds.
As I have shared about my book, one of the most precious learnings of the book-writing process was that I could know so much about my father simply because I was asking him about his past. Otherwise, so many of his stories of courage would have gone with him, which would have been so sad. And my father, for all practical purposes, was an ordinary man, he was no celebrity, and he never won any award or recognition for any act of bravery. That makes it all the more critical, as his stories have inspired many other 'common man' to realise their potential and not get daunted by challenging situations. 
As an extension to the book, which features many instances of courage, as exemplified by my late father, I decided to initiate an Essay Writing contest in a private school in Gurgaon. The topic of the contest was – Against All Odds – Stories of Courage. The objective was to encourage school students to share their own stories of courage. They could also include stories of their siblings, parents or even grandparents. The idea was to encourage the kids to probe their parents and discover as-yet-untold stories they might never have had an opportunity to know.
While I had thought of the contest for senior students, the school suggested we target grades 6th and 7th. 'Trust us, Mr Sonpal, we know this will work better', assured the dean. We went ahead with the plan and within a weeks time, we had some 21 students responding with some beautiful and heart warming stories. While I was excited about launching the contest, I was quite skeptical about the participation. The event was initially discussed in Jul and planned for Aug 2022, but it kept getting pushed before the final date decided was Dec 13, 3 days before the students went on winter break. So I anticipated that not many students would be able to give attention to the contest. 
The intent of this post is to share with you the type of stories that 11 and 12 year old kids had to share on 'courage'.
"You cannot control what happens to you, but you can control your attitude toward what happens to you, and in that, you will be mastering change rather than allowing it to master you."- Brian Tracy  Beautiful narration by Aanya, about when she was just 6 years old, she toppled over when standing on a bench in the swimming pool, hurt her lips badly and overcame her fear of injections. She got one right on her cheek and head on addressed her perception of pain for the very first time. She further writes " After that day I wore my scar like jewelry, I didn't hide it."
When we speak of courage, the instant thoughts that come to our mind are that of physical acts of bravery, putting oneself in the harm's way, risking saving lives, standing up against bullying, harassment, discrimination, and other similar instances. We seldom realise that courage could be a simple act of making the right choice, stepping out of our comfort zone, overcoming fear and difficulties to achieve the goals and lastly giving wings to your dreams and imagination. In a great rendition of her late grandfather's rags-to-riches story by Ahana, who was born and brought up in a small town in Punjab went on the self educate, did small jobs to earn and living and finally sett up a successful business in Delhi. He even taught himself English to make trips abroad to attend trade shows and expand his business globally.
Avaani takes us way back into history, when she narrates her Great Grandfather's story during the days of India's independence and partition with Pakistan in 1947. She further tells us how her Dadaji and his family escaped from deadly riots, salvaged their valuables and became refugees in their own country. Built up a fresh living from scrath by growing potatoes, even taking care of extended famil and then expanding the business.
In a touching story, Rudra's talks about his childhood, at the age of six, he was diagnosed with Amblyopia. Also known as lazy eye, amblyopia is reduced vision in one or both eyes caused by abnormal visual development early in life. The weaker eye often wanders inward or outward. The immediate solution was to wear a patch in one eye every day. The correct treatment is to stimulate the weaker eye by wearing an eye patch over the eye with better vision for two to six hours a day. This should be alternated with patching the weak eye on alternative days to ensure balanced muscle development in the eyes. It was tough for him to do this and go to school. His parents supported him through out and his Dad even wore a patch himself to help him get over those tough time. Rudra talks about how some kids even mock and make fun of him, but he learned to ignore them over time.
In a very well-articulated story by Annika she describes how her father and her friend survived a rafting accident in Thailand. Great narration of how Kaavya overcame fear and how she decided to follow her dream of scuba diving.  
Yash talks about how he had a dreadful skin infection and how he, along with his parents and little sister overcame the challenges. Hey quotes Bob Marley, ''You never know how strong you are, until being strong is your only choice". I was only a new-born baby when I was diagnosed with severe allergies and eczema, a skin disorder, and my condition was quite dismal. I would feel an itchy and uncomfortable sensation bothering me day and night but the only thing that kept me fighting "Against All Odds" was the cocoon of love, support and care provided by my empathetic family. 
Challenges are what makes life interesting and overcoming them is what makes life meaningful. – Joshua J. Marine.  Myra proves that it requires courage to take up fight against the law for support for a patient. She describes how her mother's patient, wanted to seek support for abort a 23 weeks old unwanted pregnancy, but the law of the land disallowed the same. Her mother took support from her lawyer father to actually file a petition in Supreme court and got a judgement passed in record time to enable the same, not just for herself, but it also lead to amendment in the law for all such cases in future. Her mother did all this simply for a normal patient. Myra writes in conclusion: It is rightly said that "what you can't confront, you can never conquer. The fears you don't face today will become your limit tomorrow". 
Loved how Dev has narrated incidents of bravery of his grandfather when fighting naxalites in Nagaland. At one point of time, the soldiers ran out of food and when the food packages were dropped from helicopter, glass jars which contained achaar broke, making the food impossible to be consumed. However, due to sheer hunger, they ended up having to still consume the food after a few days. Dev further narrates how when they ran out of ammunition, they even had to fight the enemy with just 'khukri's
Varun tells us his mother's story, how she, along with 20 other women, went to Kargil during the war with Pakistan to tie rakhi to the fighting soldiers. It's a story not many people might even know about. He talks about how the group of women were escorted by the military convoy to places like Kharbu Kargil Drass Zojila pass , which is at an altitude of over 12000 feet. They were in the war zone and experienced shelling 500m from their vehicles. They all ended up making a very strong and memorable bond with the soldiers through the experiences and boosted the morale of the soldiers, who fought hard for India's victory.
In a very high quality narration by Aahana, she quotes GK Chesteron, "The most incredible thing about miracles, is that they actually happen.". Aahana describes her Dad's story, a more recent one, where, during the pandemic, his business collapsed completely and they had to start from scratch, established a business and made it a big success in a very short period of time through strong determination and grit.
Lovely story depiction with touch of humour and exemplary display of courage by Advay's Dad, who barely escaped death in a major trekking accident when he was just 16.  Great description and narration by Aanya, describing how her superhero, her nanaji, saved life of his mother and other 12 year old girl from drowning. 
Samaira talks about how she learnt to overcome stage fright in a debate competition, while Saanvi talks about overcoming stage fight in world scholar's cup. Kanav describes about his own experience of being bullied  in school and how he feels students should fight against it
Tara's  describes how her father went through, and  survived all kinds of adversities during the major cyclone in Odissa in 1999.
Mannat describes the medical challenge of rare disease that she had to fight from and how she came out of stronger, wiser and lot more bolder.
Reet describes his dad's story, fighting acute poverty, how he educated himself and became a CA and finally made a career for himself, despite all the challenges
As I read and re-read these stories, it left me numb. To hear about so many silent heroes and super heroes, overcoming fear, facing challenges, coming out stronger and most importantly, being able to narrate and share the stories to a wider audience, was really an experience I felt I was very lucky and fortunate. I decided that I should share with a wider audience and hope more people, especially kids, will replicate this process of talking to their elders. At the same time, I also hope the elders will make it a point to share their own stories with their kids, so they can also learn from the experiences.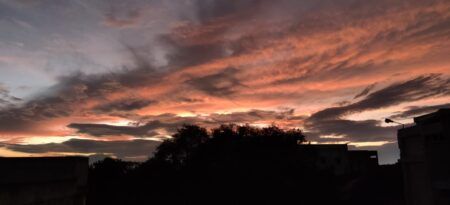 ---