My childhood Diwalis were quite simple and when Medhaji gave this Diwali ''write choice '' challenge  I wanted to participate despite having no big stories.  But there is always the solace of Mithai.
''Velukkumpol Kulikkanam
Velutha mundudukkanam
Kozhiye Pidikkanam
Karumure Kadikkanam ''
This was my Granny's peppy Diwali song.
 (Roughly translated as a wake up early take a bath and wear new clothes. Catch a Rooster and make a dish! )  Waking up early and taking a bath on Diwali is universal. But it has nothing to do with the Rooster. It walked free on Diwali days. My Grand Pa was a pure vegetarian and a Sanskrit scholar. He spoke in a chaste language dotted with verses. Even though meals were prepared according to his tastes,  Granny often dropped the ''good girl '' image and sang village songs without any pretense.  Thanks to my genes, I have a little bit of both of them.
In my village, we celebrated Diwali only for one day, it was mostly about lighting diyas and firecrackers.  The Diwali revelers (my cousins ) burst firecrackers at night. I had no access to firecrackers. My Grandparents had a minimalistic lifestyle and they also thought firecrackers can be harmful to the little me.  Grandpa always got me enough sparklers (poothiri ) in small and big boxes. Holding the tiny sparklers in both hands was pure joy when it sparkled into the dark deep night. Our home was poorly lit with only 60w bulbs and DIY kerosene lamps made from small glass bottles. In the pitch -darkness floated the surreal neon dots from the tips of fireflies( A tiny night insect with bright shining tips).  Diwali was about dispelling the darkness of the night in those days.  
The next day morning all kids would gather and collect the left-out and half-burnt sparklers, potash guns, and colorful matches and reignite them, filling the air with the smell of sulphur. We were a happy and carefree lot. There was no fear of air pollution in those days. The only fear was the thin bamboo cane in the hands of Grandpa. He used that to chase the revelers away.
Looking back,   I am so grateful for this minimalistic lifestyle of my childhood, small things still ignite sparks of great joy in me.
Diwali celebrations got bigger after I came to Pune.  There is Lakshmi Puja, Diwali lights, Sweets, shopping, and gifts. Diwali Faral.   In the evening we do the Lakshmi Puja and sprinkle holy water in every nook and corner of the house to ward off negative energies. Then we light small earthen diyas and keep them all around our home.
When my kids were small I got them sparklers and watch them play with nostalgia.  The nights here are not that charming and pitch dark. Children don't get the joy of dispelling darkness as the nights are well lit and bright. Even when the power goes off there is the backup. My kids quietly gave up on sparklers and firecrackers when they became conscious of environmental pollution. They are contented with new clothes and lighting the earthen diyas.
In Maharashtra, there is the custom of making Diwali Faral. Faral is the festive food consisting of sweet laddus, chirote , anarsa and the savory chaklis, sev, and chiwda.  
Women start making these food items days before Diwali filling the air with a mouthwatering aroma of frying and dry roasting of spices. Faral is often made in large quantities and distributed among friends and relatives after Lakshmi Puja at night. Every year I received my share of Diwali Faral from friends and never tried making it myself. This year I decided to have an Atmanirbhar Diwali and tried out making Faral (not all items ) myself.
Even though I am a foodie and many of you know that I cook well also, I am still a learner. I learn from YouTube videos and other sources almost daily. Being a food maniac I have this habit of watching youtube food videos at night after switching off lights for sleep. ( that sounds weird even to me! ) But that is how inspiration works. Thanks to many wonderful Chefs and creators out there , I successfully made wheat chaklis ( Madhura's recipe ) No fry Chivda( Arti Madan's recipe ) Boondi Laddu ( Kunal Kapoor recipe ) and Besan ka laddu ( Kunal kapoor recipe ) so far. I will be trying more easy items like sev also.
 The making of Boondi laddus looked so easy in videos, it gave me the toughest time when I tried it.  I followed the instructions and started making boondis for the laddu. The boondis simply refused to form and fell flat and splattered in hot oil. I tried making the batter thick, thin, adding baking soda, baking powder, adding salt and not adding salt. All the kadais and non-stick pans in my kitchen came out. Nothing worked, the bondis remained elusive and challenging. I checked tens of other videos. I tried making aloo bajjis with batter. Then also I found the batter is curdling and falling off the potato slices. Something was wrong with the besan. It was probably not pure. Still, I couldn't give up on boondi laddus, so I went and bought a few packets of boondi from the store and made laddus. They looked perfect and adorable, tasted yummy too. You already know it!  I am trying again to make boondis at home. I am not the one to give up easily.
Take Away from my experience,
If you are trying to make boondi laddus for the first time,be practical and buy boondis from the store. Atmanirbhar can be practical too J
Here is sharing a very healthy and Easy Faral recipe for you
No Fry  Poha Chivda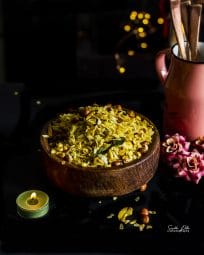 ( Recipe is from Arti Madan. I have only added a pinch of hing for my preferred taste. Also proportions may vary slightly  . )
Ingredients :
4 cups thin poha (beaten rice flakes )
2 tsp oil
1 cup  raw  groundnut
½ cup  roasted chana dal
1 cup sliced dry fruits ( almonds, pistachios, cashews, raisins )
½ cup thinly sliced dry coconut
3 to 4 green chillies
1 tsp turmeric powder
2 tsp chilli power
½ tsp Hing
1 to 2 tsp amchur powder
2 tsp powdered sugar
Curry leaves
Salt to taste
Directions.
In a heavy-bottomed pan dry roast poha on a slow flame. Keep stirring for 5 to 8 minutes. The poha shrinks in size and becomes crunchy. Heat oil in a pan, add raw groundnuts, and roast them on medium to slow flame with stirring. Once the groundnuts are brown and done add sliced dry coconut, dry fruits and chana dal. Roast them together for 3 to 4 minutes. Bring the roasted ingredients to one side of the pan  and add curry leaves , mustard seeds and geen chillies . Allow the mustard to splutter and the chillies and curry leaves gets roasted too.  Add spices , salt and sugar. Now  add the roasted poha. Gently mix till poha and other ingredients are evenly coated with salt , sugar and spices. Remove from stove. Store in airtight jars. This is a very healthy and nutritious snack. Do make it at home.
Wishing you all dear ones a Happy and Atmanirbhar Diwali  ! Jai Sri Hari.:) 
---