In the first part of this post, I discussed how the sands of time have shifted, and we can no longer burden our saints with being the rescuers of Sanatana Dharma. The grihastha population is 99.99% of Sanatana Dharma followers, and we need to step up this time. We need to find ways to apply the teachings of Sanatana Dharma in our daily lives and show the world that our dharma is not restricted to monks and ascetics alone. We need to figure out how we can help apply the teachings of Vedanta at work with simple stories. Detachment, having a correct view, and compassion are excellent traits to have at work.
I spent a week thinking about how to approach this problem. Then I thought, how would I approach it if I were to dedicate my life to solving this problem. I decided to approach this problem the same way I approach my Sadhana. Treat it like an infinite game. An infinite game does not have a time horizon. You continue to keep playing the game. The only objective of the game is to engage with it. Life, Careers, and Global politics are fantastic examples of infinite games. They are ever-evolving and the players change but the game always continues.
Why do I call this plan to revive Sanatana Dharma an infinite game? It's incredibly urgent and should be time-bound. Yes, it's urgent, but when we treat the solution as an infinite game, we decide to do the right things for the long term versus making short term commitments with gusto and then running out of steam.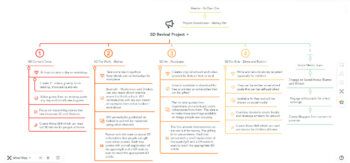 Basically, I am saying that I will dedicate my entire life to the revival of this glorious dharma from this moment forward. It's a big deal for me because after meeting my divine mother, I felt completely fulfilled in her bhakti. I used to laughingly say I write about the revival of the dharma because that's what my mother is here to do. I would have written about recipes if she were reviving ancient cooking techniques. That's no longer the case. In a few posts, my guru and my divine mother defined my priorities for this lifetime.
How Do You Begin
Before I go deep into our plan, I wanted to share a few simple things we can do to contribute to this cause significantly.
 
Lead a Virtuous Life and Talk About It
There are some non-negotiables when it comes to walking this path, and leading a life of compassion is one of them. When you conduct a virtuous life, people around you automatically start noticing it and approach you with some questions. You can then tell them about your Guru and your path and encourage them to use tools such as Black Lotus or Sadhana app. If you keep talking about Swami, but people around you still see you getting angry, upset, and acting in your self-interest, they judge your guru alongside you. Let me give you a simple example. I recently got a refund from the income-tax department that was incorrect. It's a significant sum of money. I can sell my current car and use this money to buy my dream car. However, I have been trying hard to follow up with the Income Tax department and return the money. A few colleagues know about this. My boss walked up to me last week and told me she would share this story with so many people in dinner table conversations because she has never seen anybody go out of the way to give money to the government. I told her what my guru had given me is priceless and that I would never trade that contentment for anything. She just stood silently for a few seconds, and I added that if she ever tells this story, ensure she adds that part about my spirituality. I had been trying to talk about meditation to her for months, but suddenly, my conduct made her much more receptive than any theory I had previously shared.
Don't Be Shy of Word of Mouth Publicity
Don't be shy about spreading the Sadhana app through word-of-mouth publicity. My society celebrates festivals such as Independence Day and Diwali by inviting residents to set up a stall. I will set up a booth for the Sadhana app. I will create flex standees, print banners, and put in a couple of tablets and phones. We will walk people through the app and talk to them about using it every day. We will rope in a couple of Telugu speaking people to help reach out to the senior citizen community who are deeply interested in such activities. I will also work with the Sadhana team to ensure all the collateral created is approved and can be centrally distributed to anyone who wishes to do the same. When this model works out, and we have a few volunteers, I will pay to set up such a stall in a shopping mall and do the same activity. You cannot revive Sanatana Dharma by sitting in AC rooms and writing only on blogs. We will follow a phygital strategy to make it scale and work.
Let me know go ahead and introduce our plan to contribute to the revival of Sanatana Dharma.
Introducing the Plan by the SD Revival Team
The Sanatana Dharma revival team is mentored by Sri Devi Om. It is led by me, Akshay Om who's the project coordinator, and we have a team of volunteers ready to serve in this beautiful initiative. We are highly ambitious and have planned with a long time frame to ensure that we put in the work necessary to deliver results. What we are sharing is the first draft of the plan. Over time this plan will evolve, and we will implement the lessons we learn to improve the plan. Here are the different elements of the plan:
The SD Content Team
The SD content team is responsible for creating all the different assets required to share knowledge about Sanatana Dharma. We are all writing on the Sanatana Dharma Medium publication and are sharing whatever comes to mind. Gradually, I will work with the team to create structured and serialised posts so we can easily publish them in different modalities such as books, podcasts, YouTube videos, and even Alexa Skills. We will dive into the various aspects of this grand tradition and ensure we do not restrict ourselves to one school of thought. We have licenses for a few cloud content creation and music libraries to help us create unique content.
I am the editor for our Medium publication and will continue coordinating with all our contributors to ensure we plan and create fantastic content.
The SD for Work Team
The SD for Work team will create a weekly series of Linked In where we take on the significant story from the rich tradition of Sanatana Dharma and provide context that is relevant to the modern workplace. Take the story of the Washerman and the Donkey, for example. The washerman pretends to tie the donkey with an imaginary rope, and the donkey spends the entire day rooted to the same spot. It is the same case with us. We have many imaginary challenges and mental blocks in the workplace, and teachings from this magnificent Dharma can liberate us. These posts will also be released as Podcasts once we have at least ten stories to create one season.
This is a single-member team with me as the sole member, but it will have more people to it over time.
The SD Art Team
The SD Art team will focus on creating artwork that complements some of the stories so that we can create a high-quality experience. However, each art piece will also be available for free download so that users can share it and also print it if required. Another area we will target is creating collectables that you place at your home or workplace. Let's say you read a small article on the meaning of Om and wish to have a small art piece that reminds you of that on our office work. We will collaborate with the relevant vendors to create a physical art piece. You can place it on your desk or at your house. It will ship with a small scroll that summarises the teaching behind it and includes a QR code to take you to a video/publication for more information. The SD art team will also contribute music and songs to the SD YouTube channel. The team will also conduct art classes for children in due time. Neelanjan Sinha will lead this team.
 
The SD for Kids Team
This team will focus on how we can increase the exposure of Sanatana Dharma for children. The best way kids learn is through stories. Hence, the team will focus on writing stories that engage children and teach them stories that highlight the beauty of Sanatana Dharma. The team will focus on age-appropriate content, so the stories for 4–8-year olds will be very different from stories for teenagers. Most kids love technology, so that these stories will be published as Alexa Skills. The idea is for them to simply say "Alexa Launch SD Kids" and then say "Tell Me a Story" to hear a randomised story. We will also record the same stories, so they are available on YouTube and as podcasts.
After we have a collection of stories, we will conduct virtual storytelling sessions so children can hear these stories live and engage with the storytellers. The sessions will also include chanting some Slokas from various sources with a simple explanation of the meaning of the Sloka. Rashmi Sharma and Divya Vanshika will lead this effort for us.
The SD Social Media Team
The SD Social Media team will focus on sharing our content on social media and monitoring/increasing engagement. They will also be responsible for creating content nuggets to engage and find new readers. They will also be responsible for promoting our live sessions and ensuring we continuously share the schedule of our live classes with members.
Summary
Thank you dear reader for patiently reading through our plan. Our Swami has given a call of action to every devotee. Rama has issued the summons. A small team of monkeys mentored by my divine mother has responded to the call.
I had one simple realisation over the past few days. The purpose of life is to find the purpose of your life. Once you do find it, you give it everything you have. Success and failure are for other people to judge. You have to do your Karma and rest easy knowing that the divine guides your destiny and will help you navigate these waters successfully. I bow down in reverence to my master and guru Om Swami and my divine mother Sri Devi Om and seek their blessings as we begin this divine cause.
A Special Note
Firstly, if you are reading Jahnavi I am still praying for you everyday. It may not be at 3:00 PM everyday but have been consistently doing it. I am glad to read you are doing better. Mahadev and Mother will ensure you heal and make rapid thrives towards your liberation. God bless you dear one. Keep going sis. 
I am sorry that I am keeping comments closed on my posts. If any of you have some feedback please send it akssenti@gmail.com. 
This is simply the first draft of a plan thats going to take a lifetime of work. We will pivot and adjust as we get deeper into this journey. 
---