It was night.I just lay down and went to sleep.I used to hear about dreams but I had never experienced any myself.
Today was the first day I had a dream.
(P.S This dream is explanation of Last shalok taken from JAPUJI SAHIB first bani written by Guru Nanak Dev Ji.If you will read it mindfully you will be able to relate this dream with meaning of shalok)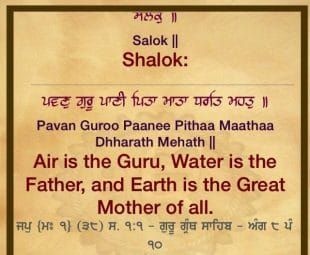 Generally when I slept,I knew only putting my head on the pillow at night and raising my head from the pillow in the morning.But today when I slept,I reached a hilly area,where there were stones and stones ,some big,some small.
Soon, water came and said to the stones:O stones,you have life in you.You are not lifeless.
I was astonished to hear the water speaking and stones listening but it was actually happening like that.So ,I became eager to listen and became more attentive and went near to listen.
The big and small stones said:O water,we are happy as we are.You move forward.
The water said: Listen,O simplestones, you have life in you.I will take you to a place where you will yourself say,'We are alive.'
The stones replied:O ,water,you move forward today.We shall think over and let you know tomorrow.
The water moved forward.Next morning,the stones had a meeting.
The big stones said:We are very comfortably lying here.This water seems to be selfish.It will trouble us.
Previously,we were on the high mountains, something like water and whiter, called  snow had come and said,:Come,ride on my shoulders,I shall take you for an outing.
She threw us here and then vanished.We have big hearts that we are not dead otherwise this heat would have finished us.We never had this hot sun on the high mountains.This water will again throw us somewhere.
Some others said:O, this water is dangerous.We were at times big rocks and mountains.This water used to get into our open spaces and holes,then freeze and expand, break us into small pieces,then carried us in its flow and threw us here.
Some stones said:Water is cool and doesn't appear to be greedy.They say water can go up in the sky,and deep into the earth.This water gives comfort to everybody.This water shall be good for us.Let us do as the water says.Let us become alive.We should leave this darkness of ages.Let us see what is life.Let us go with this water.
So there were two factions.The big ones got angry but the small ones got ready to go.
Next day, when the water came 
The whistling,the big stones said:We don't want you.
But the small stones said:'yes.'
The small stones came along with the water.The water didn't mind.
It said to the big ones:'All right see you next time.'
But,It carried along the small stones.When the water started moving,the small stones started rubbing against each other and became smaller and smaller.They repented,why they did not act on the advice of the big stones.
The water made them so small that they became a part of the water.It could not be judged whether it was water alone,or mixed with small particles of stones and earth.
Now,the water reached a field and entered the ground.Here,were lying seeds of different types in the ground.
Water said to them: O seeds,you are in meditation .I have brought disciples.They want to join you.
The seeds said: O water,we are in meditation and peace. Don't disturb us.
The water prayed to them again and again.
The seeds that were lying in peace inside the hard outer body said:All right,we will let you know tomorrow.
So, the water stood in waiting.At night the inner seeds had a meeting.
Those that were hard said:It was lucky that somebody came to offer something.We should have immediately said 'yes'. We have done a mistake in putting them off.When,they were having a discussion,a part of air that was inside the earth,said to the inner seeds:O seeds,"The outer part is your cover only.If you say,I shall take you out of the earth and then you will see how you wave in the open.The disciples that have come to you let them join you.They will come out with you and see themselves.alive.With them you will get into a higher life."
Next day,When the water came,they accepted the disciples.Some fought with anger and became dead.Some jumped outside.The sun's rays killed them.Some went to deep down that they could not come up.But those who listened to the air came out of the hard covering.They grew roots at the bottom and branches and branches on the top. They started drawing food from the earth and oxygen from the open air.
They said,:THE AIR ,LIKE A GURU ,WAS RIGHT IN TELLING US THAT WE ARE ALIVE.
This beauty, pleasure, ecstasy we should never have seen,if we had not come out of the earth.It is correct we are alive.
Now,while in the branches,leaves, flowers, fruits,those particles,which had come with the water,recollected the time,that they were lying almost dead,when the water brought them down.
They said:WATER HAS LOVED US LIKE A FATHER,HE BROUGHT US ALL THE WAY MIXED US WITH ITSELF,AND THEN MADE US JOIN THE SEEDS.
                           AND
EARTH NOURISHED US AND PROTECTED US LIKE A MOTHER.
Now,we are growing and waving,and are happy and in ecstasy.
To be continued….
---