Continued from Part-1 (https://os.me/short-stories/better-come-in-next-flight)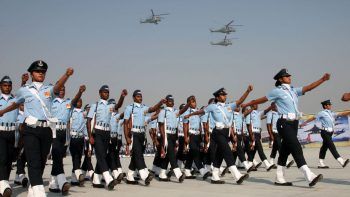 "Rest of the Flight; March." And the Flight left immediately, having off-boarded me, having left me helpless. The last word 'March' was like of 1000 decibel. 
"Get ready first and go in next Flight." with final cationery words, SDO Sir left. 
Though I already anticipated his order, but still I was more concerned about my presumed future punishments (actually toughening physical exercises, just called as punishments for the sake of creating frightening effect) at Parade ground. Till that day, I was a safe-bird, not a single punishment. I only saw co-trainees being punished.
I immediately tightened laces, anklet strips, etc, checked myself in the big-sized mirror ('am I dressed properly' painted on it) outside my Billet and ran as fast as I could towards the other Billets, since everyone nearby had gone haply. 
Hurriedly I kept on running, like a mad horse, from Billet to Billet. Some precious 100 seconds passed. And finally, by His Mercy, found a group of eight, all terribly waiting for two. The moment they saw me, they cheered in celebrations. Me too, but more in my head. Still one man short.
Parade ground was some 20 minutes Double-up away and '0655 Sharp' was the repoting time. 6:38 already. Generally, we used to leave by 6:30, max.
Why this system of minimum ten! Why not lesser! Not then, but later I realised this was one of the ways of inculcating team spirit and they very well succeeded in their motive.
His Blessings showered upon us all nine and one more (late-commer like me) joined soon. And immediately, the Flight, rather than Doubling-up, Quadrupled-up. But abnormally fast we cannot run, as this looks odd and chances of mismatcing of our steps may occur; which might again, prove to be an invitation to futher punishments. So there was no point in turning into an athelete.
"Faster, faster! Join-in faster". Shouted the GTIs (Ground Training Instructors) at entrance. 6:54 in the Casio digital wrist watch in one of the GTIs (since trainees were not allowed to wear wrist watches, ring, etc. in the Parade Ground). Ours was haply the last Flight. 
All thanks to some invisible forces. We reached at certain solid seconds before 6:45. Cannot even describe the level of the joy, of that particular moment, in words. 
Later I derived that everything was in place in that occurance, only thing the chaos was in my mind, for the entire 20-30 minutes.
Get ready first and go in next Flight. SDO Sir was right.
I find, even in Spiritual journey, inspite of undue hurry-worry, one must prepare well oneself first and then jump into the rich ocean, as to experience much richer experience (I request for guidance on this).
I find myself quite fortunate for being part of Shree-Hari's abode. I am fortunate that Om Swamiji Maharaj Himself is my Path-Guide. I am fortunate that His Divine-Energy blesses me all the time. I am fortunate that I am part of the elite group, kind and well-equipped with enormous wisdom.
But I myself sometimes feel, I must have prepared bit more, in many ways, before reaching to kind patronage of Swamiji. As I think my level is still way below than the standards. I still need to workout upon various dimensions.
Sometimes I feel, I should have 'better come in next Flight'.
Jay Shree Hari. 🙏🏻
---