During winter season, most of us have visited Sultanpur Bird Sanctuary which is near Gurgaon. It is popular because of its easy accessibility, nice restaurant and good connectivity with roads. There is one more bird sanctuary lesser known because of not that good roads, non-availability of food and water. In Jhajjar district near about fifteen kilometres from the Jhajjar city, Bhindawas Bird Sanctuary is one of the most wonderful bird sanctuaries of North India. It is located near Delhi and Gurgaon just an hour or so run by car. It is a great picnic spot!
One can reach Bhindawas by following Google maps to some extent but there is no need to take a long round about as Google maps shows. When one is close to the sanctuary, one can follow road maps or can ask villagers for short and good roads leading to Bhindawas Bird Sanctuary. It is man-made wetland. It was constructed to store excess water from JNL Feeder and its channals at the time of power failure of Lift Canal System. It spreads over 1074 acres. Around the lake, it has 12 kilometer long vehicle track. The road is kachcha at few places. There are small islands, which enhances its beauty.
While travelling through the nearby villages, one can spot quite good number of birds like jungle babbler, black drongo, Indian roller, woodpecker, white throated kingfisher, parakeets, common hoopoe, shikra, laughing dove, greater coucal, blue peafowl and spot billed duck. The migratory birds one can spot there is flamingo, great egret, comb duck, northern shoveler, ruddy shelduck, whiskered tern, Earasian marsh harrier, Palla's gull and common teal. Along with birds one can also spot neelgai, jackals, jungle cats, monkeys, cows, buffaloes, goats and sheep. There are two watch-towers with great view. There are many picnic spots with the beautiful view of lake and islands in it.
This year there are many attractive birds there. If you are planning to visit then take the food and water with you. And do not forget to take binoculars for better view!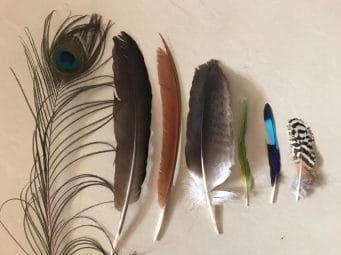 Can you recognise feathers of which birds are these? Answers in comment section for #TheWriteChoice
---