At first I'll tell you something about this form of Mother Divine and at last I'll tell my experience how she blessed me. If you want to skip then you can skip to the last part…
Baglamukhi is worshipped for her strength, victory, and protection from cuts, scars, operations, and accidents, as well as his dominance over enemies. She assists the worshipper in achieving success in law suits and competitions, as well as resolving quarrels to the worshipper's benefit. Her worship can also be used to ward off terrible ones, spirits, and Yakshani.
Baglamukhi is the power or Shakti of cruelty and is associated with the second night of courage. She is described as the Devi with three eyes, wearing yellow clothes and gems, wearing champaka blossoms as her diadem, with one hand holding an enemy's tongue and the left hand spiking him, so you should meditate on the paralyzer of the three worlds. The Maharudra, who has only one face, sits to Bagala's right.
"Bagalamukhi" is derived from the Sanskrit words "Bagala" (distortion of "valg") and "mukha," which mean "bridle" and "face," respectively. As a result, the name refers to someone whose face has the ability to imprison or control others. As a result, she represents the Goddess's repetitive power. Another translation of her name is "crane faced."
Bagalamukhi has a golden complexion and wears a yellow dress. She sits on a golden throne amidst a nectar-filled ocean of yellow lotuses. Her head is adorned with a semi-circular moon. The goddess is described in two ways in various texts: the Dwi-Bhuja (two-handed) and the Chaturbhuja (four-handed) (Four handed).
Bagalamukhi Devi, also known as Pitambara Devi or Brahmastra Roopini, transforms everything into its polar opposite. Speech becomes silence, knowledge becomes ignorance, power becomes impotence, and defeat becomes victory. She represents the understanding that each thing should, over time, become its polar opposite. She allows us to master dualities as the still point between them arrives. Seeing the failures hidden in success, the deaths hidden in life, or the joys hidden in sorrow are all ways to get in touch with her realism.
The following are the roadblocks on the way to religious explanation and the ideal life in this world. There are five internal enemies of the righteous life: kaam (lust), krodh (anger), lobh (avarice or greed), moh (materialism, attachment to mundane relationships), and ahankar (deception) (pride). Haumai is the source of all evils (egoism). If self-awareness or deliverance are your goals, you must practise Maa Baglamukhi's sadhana, as she is known to defeat all of the aforementioned foes. To break the cycle of birth, everyone should practise Maa Baglamukhi sadhana.
How she blessed me:
So this was some explanation on my Divine Mother… Now I'll tell you how she blessed me on 12th January 2022….. We (cousins) were sitting together and discussing as we had snowfall so we want to see snow… We planned a family picnic. Picnic was decided the day was decided but not the destination… Parashar lake, Rewalsar lake, Devidarsh? Which place is best? It was difficult to choose. Finally we decided we will got to Mahatma Gandhi NREGA Park, Bagsaid, Seraj Valley, Mandi, Himachal Pradesh. My Bhabhi told me Bhaiya there is an old temple dedicated to Goddess Baglamukhi you will enjoy there. I was not attached to this form of Divine that much but yes she is my mother in the same form… So we reached there in afternoon. Generally in Hilly areas of Himachal Pradesh locals  maintain the serenity of the divine place and they follow strict protocols. Timings are fixed of opening and closing. When we reached there, we offered our obeisance to the Divine Mother who was sitting quietly in a newly built temple. Then we stepped towards old temple of Divine Mother. It was closed… Don't know some how the priest came for some work and he opened the door of temple. There were omly me, my brother and my bhabhi inside the temple area and priest. Among more than 50 people in the park we were there. We had darshana of Divine Mother. Bhaiya bhabhi left the temple and went outside and I went back to do some donations there and by her grace Priest came outside the temple and he gave me prasadam. Now see among 50+ people we three had darshana and among us Divine Mother blessed me. I was so happy… I was like: "Aapke liye hongi ye Devi mere liye meri Mummy hai jinka favorite color yellow hai."
"Mantra heenam Kriya heenam Bhakti heenam Sureshwaree YatPujitam Maya Devi Kshmyataam Parmeshwaree"
Hey Maa Baglamukhi Mere Shatru ye vikaar hai jinse mera chit shuddh nahi ho raha, jab tak chit shuddh nahi hoga tab tak Maa Hari mujhe apnayenge nahi… Aap lripa kijiye ki mai apne shatruon par vijay prapt karu or Shri Hari se mera milan ho.
Hey Maa kripa karo… Mai bhi aapka hi bhula bhatka bachha hu…
(This the temple of Kuldevi of our Hon'ble CM of Himachal Pradesh, Sh. Jai Ram Thakur…)
Some pics: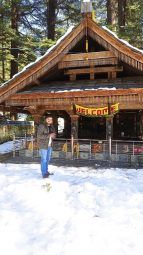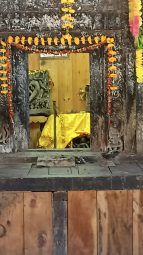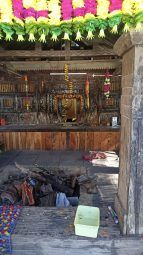 Display Pic credits: https://tableforchange.com/baglamukhi-beej-mantra-text-benefits-of-chanting-goddess-baglamukhi-beej-mantra/
---