Jai Sri Hari!
Here is to all my dear ones who loved the The Versatile Coconut Tree blog and showered me with a lot of love. This is for you, easy coconut recipes, delicate and delicious!
You'd definitely love to give it a try during this festival season.
Tender Coconut Payasam (Kheer)
(Serves 5 to 6)
1 tender coconut with soft malai in it (we need the edible part as well as water for this preparation)
1 cup thick coconut milk (fresh is always better)
4 cups of milk
2 teaspoons cow ghee
1 cup milkmaid
½ cup of sugar
Some dry fruits of your choice
Heat the milk adding the ghee on a very slow flame. Add sugar. Allow the milk to reduce to almost one cup. Stir lightly in between to make sure milk doesn't yield thick cream on top. Take off from the flame. Allow cooling. Keep it for chilling.
Take the tender coconut. Extract water and edible flesh. Divide the pulp into two portions: Take one part of pulp and blend it to a puree adding 1 cup of coconut water; Chop the remaining half into small bite-size pieces to be used for garnishing. Stir in milkmaid and coconut milk. Add this mixture to chilled milk. Garnish with chopped almonds or pistachios. Add the coconut pieces. Serve cold.
Note: For those who don't use sugar, you can skip adding sugar and milkmaid. You will still get the desired effect.
Now, I had some condensed milk left. I made coconut laddus with it. We can give this laddu making task as an assignment to kids, too. They would love it! Heer's another one of the easy coconut recipes for you:
COCONUT LADDUS
1 /2 cup milkmaid
2 cups desiccated coconut
1 teaspoon ghee
Take a thick bottom pan. Grease it with ghee. Keep the flame low. Add coconut and milkmaid in the pan. Stir till it blends well and the liquid is absorbed. Allow the mixture to cool down a little, until it is warm to be held in palms comfortably
Make small laddus or round-shaped balls
Spread desiccated coconut on a plate and roll the laddus on it to give a beautiful coating
Serve. Don't forget to appreciate the kids in front of all your family and guests. for making delish laddu.
PS: More festival recipes are coming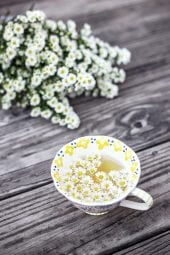 Cover image: Surekha
Flower deco: Thanks to Photographer Ornella Binni at Unsplash
---