When someone asks me whether I am a cat person or a dog person, I usually reply dog person, just because they look more adorable to me. But honestly, I never felt any connection with dogs because I get little scared, from sounds they make. 
But no sooner had my parents brought this little puppy to home yesterday, my fear changed into love. We named it 'Bambi'( like we spell Jam , Bam-bi) When he came to home, he pooped out of fear and change of atmosphere.  And because it was first hand experience for us, in the state of nervousness, we gave him bath with normal water, which was not at all normal for this tiny creature.  He started trembling and with unstoppable shivering, he started crying. Without any second thought I hugged him, rubbed him against my body for the warmth and eased him. Gradually,  things became normal within 10-15 minutes but my love for him flowed limitless. 
I have never felt so empathetic towards anyone in my life ever before. The only thoughts which are troubling me are how alone he has been? Is he comfortable among us humans? Is he missing warmth of his mother? Will he be able to connect with us? And so on…
So with this extra empathetic approach, and to provide warmth through my body  touch, I thought that it would be better if he sleeps in my lap, to which I had to face a lot of reluctance from my family at first, but later they agreed for the love of this little creature. 
Today, evening he came to me with a tired face. So I carried him like a human baby from his forearms and looked into his eyes. While looking into his innocent eyes, I just said these words, " I know you miss your mumma, but don't worry, I am here, we are here for you my little baby. We will pray for your mumma. Okay? And she will pray for her little Bambi." After saying these words I put him in my lap, and to my surprise, there were tears in his eyes. At first I didn't believe, I thought it is just water.  Then I called my sister, who was standing close while I was saying these words to him, to check whether these are tears. And yes those were tears, flowing stoplessly from his eyes, for surely missing his mother. The gush of tears couldn't stop from my eyes, flowing and falling on Bambi. 
This  cute little incident has really revealed to me that how our connection with other beings in existence, is far more than language, and species. While writing this, I can feel Bambi's fast pulsating heart, lying in my lap and I think what else does it need for love to exist, just two pulsating hearts, mine and Bambi's.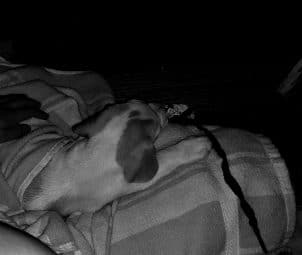 ---