My twenty-fifth bday…..a special day for me. Going to start a new journey in life.  A feeling of adventure, new discoveries ….I wanted to explore whole world with my starry eyes. And here goes my plan to visit Agonda,( South Goa). My childhood friend  Manu….who accepts me with all my flaws…..decides to join me. What a thrill it would be…. We decided to explore  ourselves by exploring the beaches away from city bustle . We are super excited.
Agonda, famous for its turtle beaches and the peaceful coastline was full of life. Manu with me, hand in hand, no worries ….we were exactly similar to our surroundings. On one afternoon, it was a little hazy when we decided to explore further foreside of the beaches. After a long walk and quiet talk, we both were here. Surrounded by small smoky hills, the little milky and aggressive shore was welcoming us.
I ran towards the sea to embrace its beauty but then pebbles and this fallen tree obstructed our joy. How this rotten tree is lying there? Maybe some party lovers have used it as a bench to sit on and have fun. Life is like this only…. Somewhere beauty and peace but somewhere this unwanted stuff interrupt in between.
Manu told me to stand between the tree and the beach in a dancing pose. Dear friend, I won't only give a dancing pose…. I am going to dance over here. Am I not looking like a perfect Arabian dancer in that long black dress? The hardness of pebbles, stones and shells is giving me the adventure of dancing over them. Yes, it is absolutely fun to dance like this where there is no one to judge you. And actually, I tried some unique belly moves over there.
I have to rejoice in everything. This beautiful beach, rotten trees, smoky hills and these hard pebbles. This is life…  I am going to dance here. I am going to savour the beauty of every aspect of life. I am going to start a new journey. I will face every aspect with this much joy. I will explore life with the mixed adventure of exploring this beach site.
PS This is the first-day assignment of the ongoing writing workshop where we have to write about a picture shared by Medha Sri.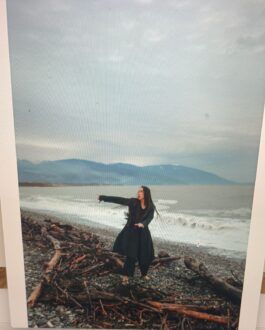 ---