One morning He came!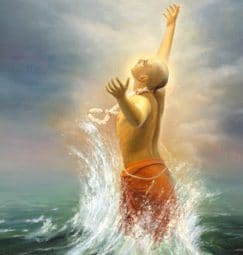 One morning He came.
Silently in, silently out,
I could have missed Him without His grace.
But when He left,
He dismantled my being,
Out of my slumber and rust, 
Couldn't believe myself!
All shiny and new,
as pure as morning drop of dew
Free from my own karmic dust,
soaked in His Divine lust,
One cannot escape his immense presence,
though, much beyond human sense.
At times like a lullaby at dusk,
and an alarm bell at dawn,
He's a silent cyclone, capable of demolition,
Setting fire over one's curtain of illusion.
And for that I greet each day,
With no words to say,
With a whole lot of gratitude,
I bow down to Him in solitude.
Unless one is touched by the real cosmic sorrow
A GURU like Him will not care to spot us
Before maggots eat through our marrow, blood and pus …!
To His Lotus Feet
Krishna Mohan
---
This post was originally published on Swamiji's fan club website which no longer exists, to know more about that, refer to my intro part of the archives series here.
I personally loved reading this poem, it really touched my heart and became one of my favorite poems ever.
P.S: As you can see in the screenshot below that I have replaced the "Ampersand sign" with "and" in the last line because that sign is not supported in the post editor and caused a crash when I previously published the post.
#TheWriteChoice
#TheWriteChoice
Original Screenshot : 
---