Divine Intervention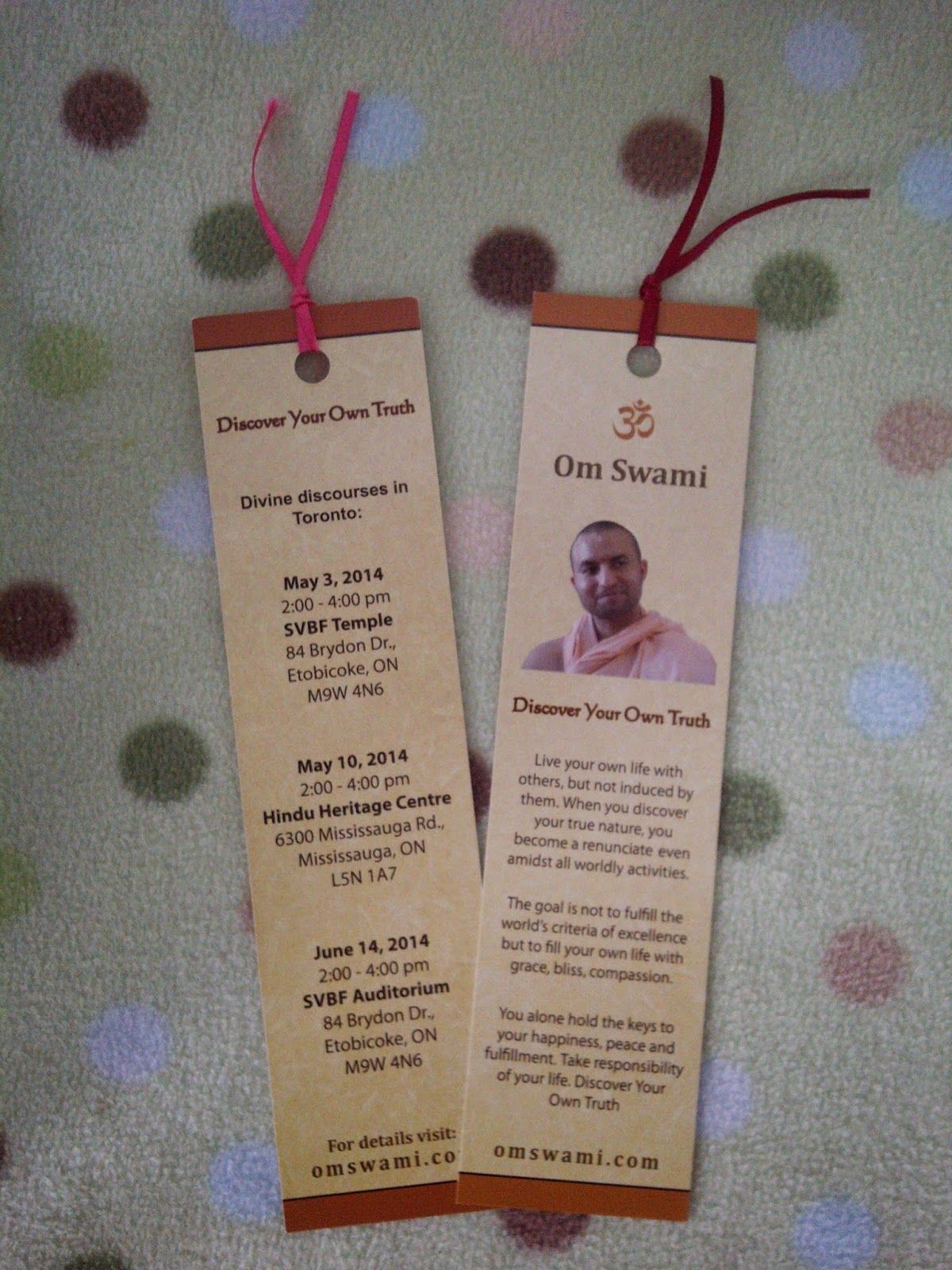 One day in mid May, I felt compelled to make a trip to my local library and pick up a book I already had a copy of. When I found it on the shelves- Eckhart Tolle's "The Power of Now"- I immediately noticed a curious pink ribbon sticking up from the top. How odd, I thought. Flipping through the pages I realized this was actually a bookmark, which I was deeply grateful for. I had been praying for more bookmarks and here it is; what God led me to.
But no ordinary bookmark, it was the one that promoted Om Swamiji's three discourses in Toronto. Having just missed the second one, I only had the option of the last one to attend, on June 14th. I knew I found this bookmark at the time that I did to guide me to this event. As if God was giving only one option so the choice would be made clear to me. An immediate inner resolve came over me and I knew that I had to attend.
I made the necessary arrangements, first by finding out a possible route to take through public transit, and writing down instructions on a square sheet of paper for me to place in my wallet for when the day arrived. Then I emailed one of the event coordinators, Bharat, and asked whether I needed to RSVP to this event. No, this was free to all. I was so grateful for the information because it seemed like there were no complications, so I felt more at peace with my decision.
The days passed and in between, I had serendipitously found a book at a flea market that I had been hoping to read- Eckhart Tolle's "A New Earth". I decided I would bring it with me on the day of the discourse, to read during my ride. When the days came closer to June 14th Bharat emailed me again, reminding me of the discourse. As if God was reminding me how very important this event was- and who was I to ignore God?
When June 14th arrived, everything about the day felt right. I found going there was such a remarkably smooth ride; each bus and train came exactly on time for me- I did not have to wait at all. I sat and enjoyed the ride, as I continued to read "A New Earth". As I had just arrived at the chapter discussing ego, the bus had just arrived at my destination. I would later understand how significant this was. But in the meantime, as per Bharat's advice, I came ahead of time in order to save myself a seat.
Upon entering this sacred place, it was such an exotic sense of peace and tranquility. I entered through the doors where the auditorium was located and to my left, a table with stacks of Swamiji's bookmarks except these had burgundy coloured ribbons, which made me consider how special that I found a pink one. Yes, this must be yet another auspicious sign.
Within a couple of minutes, people silently filled the auditorium and Swamiji was introduced. As he entered the stage, he seemed peaceful, calm, and gentle. He told us today he would like to discuss the issue of ego. Well of course this is why I'm here. This discourse would be an extension of what I learned from "A New Earth". Swamiji helped elaborate more on the topic of ego for me. He shared a parable of a woman so driven by ego as to burn her own house down for some basic recognition. How ego obscures the light of God, or an understanding of our true self. But I believe what was most significant to me was his suggestion that by living with utmost compassion, we can curb our own ego.
I think compassion is an admirable virtue. To feel compassion for those less fortunate than us, this is learning how to be grateful of what we already have. But to have compassion for those that seek to harm or hurt us, this is not only an admirable virtue but a great power or strength to possess. Of course, it is always wise to protect ourselves from harm. Yet to have compassion in our hearts for those who seek to devalue us, this is great power. While we feel great sorrow for how misguided and tortured a person must be that they feel the need to defile their own humanity, having compassion is also saying 'what you say and do cannot destroy me'. Only the ego would need to defend or fight back against attack. Our true essence is indestructible.
This is the powerful lesson I received from Swamiji, and possibly the reason that the universe went through all the trouble it did to get me to come to Swamiji's discourse. There is great truth and wisdom in what he shares. And there is nothing of a greater indication to me of the power of his teaching than the fact that the entire universe conducted all the steps that it did to lead me, a person whom is neither Hindu or expressed any interest in Hinduism in the past, all the way from one end of the city to the other, in order to hear him speak. Swamiji is a great teacher, and for the lesson he's taught me along my own journey of spiritual awakening, I truly thank you.
Eternal love and gratitude,
Judy Pham
---
This post was originally published on Swamiji's fan club website which no longer exists, to know more about that, refer to my intro part of the archives series here.
#TheWriteChoice
#TheWriteChoice
Original Screenshot :

Click to zoom
---