Teens Retreat and a Fortunate Entrant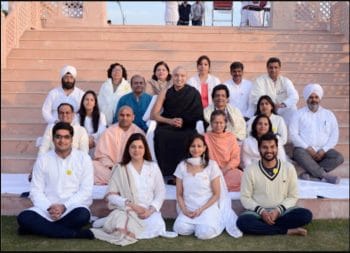 I wrote a poem before meeting Swamiji wherein I expressed my yearning to meet him. It had a line that goes like "I tried (visiting ashram) once, twice, thrice. But no reply was a real surprise".
If I look back to February 2015 when I first saw his videos and was extremely restless to meet him, the present moment seems like a dream. Back then, all I wanted was one meeting, one email, one sign that he is listening and here I am today, all content and happy after experiencing everything I had been yearning for. In fact, I have got much more than what I could ever fathom.
I feel content but at the same time, the thirst to see him and be in his presence has only soared. That's what happened when I returned home after visiting Swamiji's birthday celebrations at the Ashram.I never wanted to come back but I had to because I had to join my first job.
I live in Delhi and the location for the meditation retreat (i.e. Neemrana) was just a two hour drive from my place. There was no way I wanted to miss this chance to see him but since I was joining office the same month, I could not afford a four day off. So attending the retreat was not an option, the next best option was to pay a visit on one of the days. I was in a fix and finally planned that I will visit the retreat location on the 27th which was a Sunday. I took permission for the visit and got a go ahead.
I joined office, days passed and the Christmas week came. On the 23rd of December, an office circular was released that announced 25th (Christmas) and 26th (Saturday) as holidays. My God!!
Look at the irony, I thought. I had three leaves now (25th, 26th and 27th) for attending the retreat but since I did not register for it, I could not go. To be honest, it felt like a glass full of the most pristine water was kept in front of a thirsty man but he could not touch it, let alone drink it. I was frustrated. I had nothing but one option, i.e. to Pray. I prayed to Swamiji to call me to the retreat and guess what, he heard me. Everything fell into place. I got in touch with the devotees and got to know that a single bed was vacant from the 25th till the end of the retreat (as if for me). My joy knew no bounds and I immediately enrolled myself as an observer for the teen retreat. Tejas Om had also enrolled himself as an observer, we both tagged along and were there by the afternoon of the 25th. We met a couple of devotees as we entered the resort and everybody was so warm in welcoming us. I was happy, elated. We sat down and I instantly asked the million dollar question; Where is Swamiji? I was told that he will come at 4.30 p.m. and by that time, we had to get over with the registrations and check-ins. My room no. 228 was on the second floor. I took the key and went to locate it.
Over the next 2 days, Swamiji introduced us to Om chanting, pranayama and meditation. He gave discourses, addressed questions and gave private audiences. The morning session would start at 6 a.m., then breakfast and break till 8 a.m., then another session of discourses, videos and QandA till afternoon, which was followed by lunch and a 3-4 hour break for our rest. The evening session would start at 4.30 p.m. and it used to be over by 7 p.m. and then 8 p.m. to 9.30 p.m. would be dinner and lights out by 10.30 p.m. On an average, Swamiji spoke for more than 12 hours a day; while we were given rest for a couple of hours during the daytime, he undertook private audiences. He barely took rest. But still he was always on time, always radiant, always smiling and always giving. One thing I realized by being at the retreat is that he works extremely hard for us. I have no words to express my gratitude for what he is doing for us except that I can live by what he teaches us and make him proud one day.
The retreat was broadly based on the following key virtues:
1. Responsibility (Owning up and being aware of our choices and their consequences)
2. Self-Discipline (Not procrastinating and staying course with our discipline)
3. Mindfulness (Being aware of our thoughts, emotions, words and actions)
4. Focus (Overcoming distractions through focus)
5. Tenacity (Not giving up, no matter what, never giving up)
6. Individuality (Being yourself and not letting peer pressure overpower you)
7. Vision (Finding something you love and devoting yourself wholeheartedly to it)
8. Gratitude (Feeling thankful for what we got)
9. Humility (Being kind, caring and respectful in our actions)
He said if you completely stick to any two or more of the aforementioned 9 virtues, your success (spiritual or material) is guaranteed. Everybody was given certificates for participation and on the last day, group picture was taken, the day ended with the signature Kirtan (devotional singing) by our Sri Hari in human form. Being at my first retreat was a beautiful experience. I learned so much and I received so much. All I have to offer him is my gratitude and seek forgiveness for my misdeeds in actions, speech or thoughts.
Much Love,
Mohit Om
---
This post was originally published on Swamiji's fan club website which no longer exists, to know more about that, refer to my intro part of the archives series here.
Note: I have changed the ampersand sign in "q and a" and in the 1st point( responsibility ) to "and" because the ampersand sign is not supported.
#TheWriteChoice
#TheWriteChoice
Original Screenshot :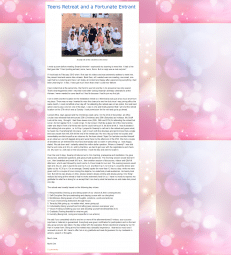 ---