Prabhu blessed Me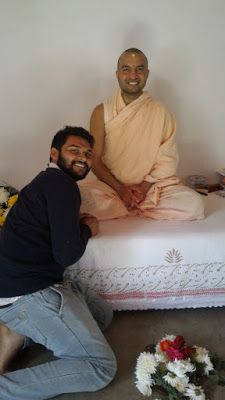 I had gone to the Ashram for the first time in October for a meditation camp. At that time, I was totally blank. I didn't know what to do or expect. All I knew was that I was going to Prabhu to learn meditation, little did this ignorant soul know that I was going to not just any saint but Narayan himself.
Before I had reached I had some questions which I really wanted to ask. These questions were not some heavy stuff like what is right or wrong, why are we here? How to be happy? and more  but rather personal questions. To each one, Prabhu gave answers without addressing me directly. This is what happens if you are ready to listen, if you are empty. Prabhu answers each and every call of yours. I have come to believe it.
By the end I was not left with any questions at all. Everything was crystal clear. It was like he had lifted a mist from the world around and everything was so beautiful. That's why I didn't have any questions to ask of any sort. I didn't put questions to him in the QandA session because I literally didn't have any and even in the private meeting I just stated what changes have come in my life after I came in contact with Prabhu and just like that came out of the room.
First time I went in I was blank. I didn't know what to say, before going in my heart was palpitating I was nervous as if in a job interview. I remember admitting that I have very little bhav and Prabhu said smilingly that it'll come with time.
When I came back home I was forlorn for like a week. I don't know what I was feeling but it wasn't something good. Some of Prabhu's posts helped me cheer up. I instantly looked up for another meet at the Ashram. I realised I was missing Him. It was Prabhu's Birthday I instantly booked a spot and went there in November.
When I came this time it was totally different. I met some people whom I had met last time and it was like I had come back to meet my family, as if I had known these people since ages. There was so much love and warmth in their embrace.
As I came to stand outside the discourse room I saw people gathering around Param Swamiji as usual to arrange for their private meetings with Prabhu. I went in, paid my obeisance to him and instantly took to Sewa.
I was mindful of all that I did but not judgemental or may be also without any inhibitions. I was filled with love for everyone and happy to be of any assistance at all.
At one of the occasions I was standing outside the discourse room closer to the time when Prabhuji left for His abode. I stood waiting to pay my obeisance to Prabhu, to bow down at His feet. When I got up there he was smiling like sun of love and compassion shining upon me. That moment was so exhilarating.
This time I met some more beautiful souls, people I really connected with, people who didn't want anything from me yet they were so giving. It was like I was a part of a big family who has gathered together on the occasion of the one who holds together this family. Some of them were like brothers I had known from ages as if, Mohit Om, Jayant Om and Ajay Ji, to name a few. Gita Om Hare Ram another beautiful soul, we packed gifts together for villagers, and of course there is Suvi Ji. Words are not enough to say about him, so cheerful and joyful personality filling up devotees with anecdotes of Prabhu. Aashu Ji like a big brother to me was so caring and loving. I really don't know how to express my gratitude and their kid Ansh is so adorable.
I reached Ashram on 28th November and I met Prabhu on 30th. This time when I went in I was again nervous but little less than before. I had thought that this time I won't say much I'll just hear Prabhu.
I went in did my pranam and said guru vandana and then I said that last time only I talked and went away this time please you say something. Prabhu laughed a divine laugh as usual. Then he said something which totally bowled me over. I wasn't even expecting it however that's what I had been saying to Him in my thoughts before coming to Ashram. I was blank I didn't know what to do I was laughing and crying, both at the same time.  I said that I always asked for that from you and Prabhu said in the most divine way "I Know. I have been listening" and I was happy beyond words. I asked what merit did I have for such fortune what good karma have I done for he blessed me.  I lived the life of a beggar he made me a king.
He said whenever you feel anger just imagine my face. This is the most beautiful thing, so deep and made me feel connected with him at such a personal level.  It shows how much he loves his devotees and what Prabhu means to us otherwise he could have just said think of something good or beautiful or anything when angry no he said think of my face. – Jai Ho Prabhu.
After that Prabhu came out and cut his birthday cake and we all took the Prasad. In the evening the birthday celebrations began and Prabhu came in Black robe. He was like Divine himself manifested in front of us. There were various performances by various devotees some of them really touched my heart. I was spell bound by the Dance performance by Sahu Ji, he seemed divine intoxicated, and the Bhajans sung by Pandey Bhaiya were so soulful he was overflowing with devotion. I haven't met so lovely a person with so much devotion in him, for Prabhu and then there was Shanti Om she sang a heavenly hymn dedicated to Prabhu.
A devotee got the DVD's made for all the Prabhu's discourses. Prabhu while distributing this among devotees was in his Bhaav and singing "Jai Ambe Hare, Jagdambe Hare, Jai jagjanani Ambe Hare", since then I have been singing this automatically every morning. Evening concluded with Prabhu doing the entrancing kirtan it cannot be expressed one should experience it by the divine grace of Prabhu.
Infact I must share that I had thought Prabhu's birthday was on 28th November so according to that I had managed my office but it was on 30th and I wanted to attend the full function and not just meet Prabhu and go back home, so when I went in before coming out I told Prabhu that I want to attend kirtan and he said "Alright" he he…Yay and I reached home next day on the first of December at 4:00 in the afternoon and I called up office to let them know I am here and that I can come now, and they said no need you take rest everything is managed. What more could be the grace of Prabhu?
Prabhu reveals himself differently to different people and they think they know him, but it's only an illusion. Prabhu is an ocean of love, compassion and divinity to which there is no end. All you are experiencing in your life which are connecting you to Prabhu
is but the grace of my lord.
Jai Ho Prabhu.
Tejas Om
---
This post was originally published on Swamiji's fan club website which no longer exists, to know more about that, refer to my intro part of the archives series here.
P.S : Changed ampersand sign in Q'and'A because signs are not supported in post editor.
Original Screenshot :

Click image to zoom.
---