Welcome Festival Season.
Let us get Atmanirbhar this festival season! We will try and make the festival sweets at home. As Swamiji says ''Preparation is the key to success''. If we must prepare festival sweetmeats with ease in the home kitchen we need to prepare a few days in advance. Hence this small attempt to post a few recipes as a series. My years of experience in the kitchen proved beyond doubt, I rolled out the tastiest of dishes whenever I took enough time to plan. This is true in every walk of life not only in the kitchen.
Watercress or Aliv is a superfood. It is used as a green vegetable also the seeds are consumed as laddus or powdered. Cress is a rich source of Iron, Folic acid, Vitamin A, and Vitamin D. They are immunity boosters and antioxidants. Also reduces sugar craving as it is packed with calories.
Some  Health benefits:
High Fibre Content.
Good for Skin And Hair
Alkaline
Helps Weightloss
Contains Pytochemicals good for regulating Menstrual Cycle
Reduces mood swings and sugar cravings
Increases  breast milk production
Reduces fatigue.
Good for skin and hair.
I tasted Aliv Laddus for the first time from my neighbour Joshy Aunty ji. Every year during winter she made these laddus . I was very curious about this shiny red seeds which tasted awesome, and I learned the recipe from her. Yesterday I made these laddus for the blog, I gave her some laddus. She was very happy when I reminded her I learned them from her. Small joys of life !
The copious amounts of coconut and jaggery added to this laddus not only enhances the flavour but also the nutrition content.
Makes 20
200 gm Aliv Seeds
500 gm powdered jaggery
4 cups fresh coconut ( or grate one coconut )
3 to 4 teaspoons of cow ghee
Melt the jaggery in half a cup of water. Allow cooling. Remove the impurity sediments from the top using a spoon.  Soak Aliv Seeds in jaggery syrup and grated coconut overnight. Heat a kadai. Add the ghee and add the pre-soaked laddu mixture. Saute on slow flame till the mixture leaves the bottom of kadai. Almost ten minutes. Allow cooling. Make laddus while the mixture is lightly warm enough to handle. Keep in the fridge if you are planning to keep for more than a week. Fresh laddus which are kept at room temperature always tastes the best.
I also recommend you to grow  Cress microgreens at home. They are very cute and a handy source of superfood at your disposal.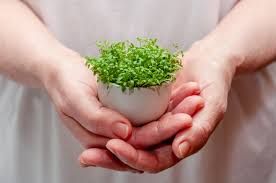 Cover Photo: Surekha
Microgreens : freepik.com
---